11 TV shows and films featuring North East locations and where to watch them
Ever driven by a place close to home and thought it would look great in a movie?
Saturday, 21st November 2020, 11:13 am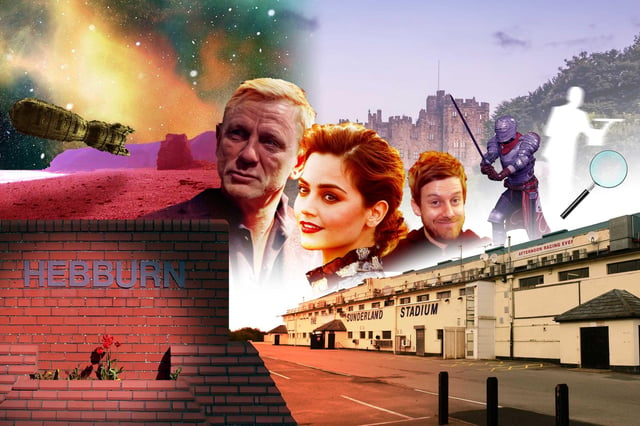 We're all being asked to stay at home again, but here's where you can 'visit' some North East locations via your TV screen.
Or visited a castle or a country house and been sure you've seen it before on telly, full of maids and duchesses?
The North East has seen its share of film and TV crews over the years, covering everything from gritty drama to sci-fi. Here's where you can watch the shows in which they appeared.
Starring Chris Ramsey and Jim Moir - aka Vic Reeves - the BBC comedy set in the South Tyneside town ran for two seasons. Park Road, the street on which the show's creator Jason Cook was raised, featured prominently.
Starring Jenna Coleman and Tom Hughes, the show about the life of the young Queen Victoria came to Raby Castle in Teesdale for some of its filming. The North East landmark featured in outdoor scenes, and scenes were also filmed in the dining room and entrance hall.
Starring George MacKay, the harrowing war film from director Sam Mendes appeared to one continuous scene without cuts, but was actually shot in twelve different locations. One of these was Low Force waterfall in County Durham.
Alnwick Castle was cast as Brancaster Castle in two Christmas editions of the hit period drama.
Durham cathedral's Galilee Chapel was among parts of the building used to depict the Asgardian Palace, home of superhero Thor.
The ITV detective drama starring Brenda Blethyn has probably seem more North East location filming than any other recent TV show. Among the places it has taken in are Sunderland Greyhound Stadium and Marsden Grotto.
An area of Dawdon Beach, known locally as 'The Blast', was used to film the opening scenes of the third movie in the Alien series . The former coal-dumping site looked positively otherworldly doubling for prison planet Fiorina 161, where Ellen Ripley crash lands.
The 1996 Tyneside-set saga was written by Jarrow-born writer Peter Flannery, and included a particularly '90s closing sequence of Daniel Craig walking across the Tyne Bridge, accompanied by a soundtrack of Oasis's Don't Look back in Anger.
Grey Street and Grainger Town in Newcastle were used as locations in a car chase sequence that featured in this entry in the Transformers film franchise.
The crime series is partially filmed in and around Durham City - including Finchale Training College in Durham, which is the location for the title character's office.
The first, and least typical, series of the classic BBC historical sitcom was another show that utilised Alnwick Castle for its exterior scenes.