Hundreds of new jobs coming to South Tyneside with £50million broadband project
A Spanish firm delivering a multi-million pound broadband project across the North East is set to create hundreds of new jobs in South Tyneside.
Monday, 16th March 2020, 2:46 pm - 2 min read
Updated
Monday, 16th March 2020, 7:44 pm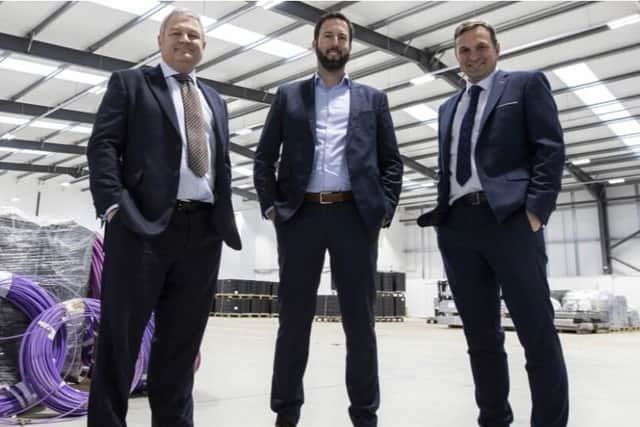 L-R: Russell Taylor, HTA Real Estate, Antonio Henarejos, IQA Elecnor with Gavin Cordwell-Smith of Hellens Group at the new HQ for IQA Elecnor at Monkton Business Park.
IQA Elecnor Group, which already employs 100 people in South Tyneside, is ramping up investment in the borough with plans to make its latest site in Hebburn the company's regional headquarters.
It plans to increase the headcount at its Monkton Business Park premises to a minimum of 300 employees over the next five years.
Earlier this year the Spanish-owned utility contracting firm signed a deal for the premises at the £5million Infinity Park development, which was completed in August 2018.
It comes as the firm has started work on a £50million broadband project which could see the North East in the top tier of internet connectivity.
The Hebburn site is the company's fifth in the UK and bosses are now looking to work with South Tyneside companies to install full-fibre broadband across the region.
Civils, fibre Installation, white top and specialist directional drilling teams are among the potential subcontractors the firm wants to speak to about delivering the multi-million-pound Fibre to the Home (FTTH) project initially worth £50million.
Craig Roberts, business development director at IQA, said: "We are keen to talk to local companies to build a robust and diverse regional supply chain to deliver the installation of full-fibre to across the North East.
"South Tyneside is now our fifth UK site and a focus for investment in the future as we have a number of projects across the region. We'll be looking to further develop our Hebburn base as we look to work over a number of sectors in the market driving our growth."
IQA Elecnor Group is hosting a Meet the Buyer event in collaboration with Invest South Tyneside, South Tyneside Council's business investment team for local companies, on Thursday, March 26 from 9am-11.30am at The Quadrus Centre in Boldon.
To find out more information and to book a place in advance visit www.investsouthtyneside.com and follow @STyneBusiness on Twitter or LinkedIn.