RECAP: How the day unfolded as Prime Minister Boris Johnson visited Nissan's Sunderland plant after major £1bn investment
Nissan's vow to build a new electric model at its Sunderland factory and plans to build a new battery plant beside the facility – creating more than 1,600 jobs in the city – was given the backing of Prime Minister Boris Johnson during a visit to the city.
Friday, 2nd July 2021, 11:40 am
The car giant confirmed today, Thursday, July 1, that a new battery manufacturing facility will be created in partnership with Japan-based Envision AESC.
Envision already operates a factory near the Sunderland plant, making batteries for the Nissan Leaf.
The Sunderland site is expected to open in the next few years, with support from the Government, and create jobs both directly and in Nissan's supply chain.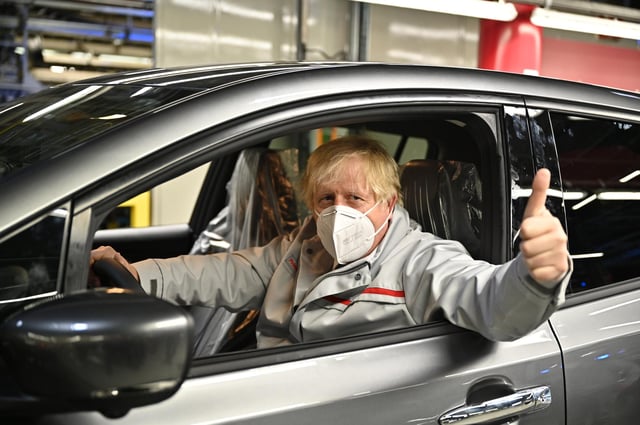 SUNDERLAND, UNITED KINGDOM - JULY 1: British Prime Minister Boris Johnson visits the Nissan Motor Co. plant on July 1, 2021 in Sunderland, England. Nissan announces a huge increase in their battery production business with plans for a gigaplant at Sunderland, bringing thousands of jobs to the North East. The UK Government has committed to phasing out the sale of new petrol and diesel cars by 2030 which will see an increase in the sales of electric vehicles. (Photo by Jeff J Mitchell/Getty Images)
Echo reporter Ryan Smith and photographer Stu Norton visited at the plant and were there as the PM took a tour of the site.
Scroll down to see how the day unfolded.
Support our journalism and subscribe to this website to enjoy unlimited access to news, sport, retro, daily puzzles and more online. With a digital subscription, you can read more than five articles, see fewer ads, enjoy faster load times, and get access to exclusive newsletters and content. Click 'Subscribe' in the menu to find out more and sign up.
Nissan Chief Operating Officer Ashwani Gupta has confirmed the plans in an event being held at the company's Sunderland site.
Live: Nissan announces plans for new battery plant in Sunderland
Last updated: Thursday, 01 July, 2021, 09:28
Nissan unveils plans to build a huge battery factory, creating more than 1,600 new jobs in Sunderland
Site will build batteries for electric vehicles in partnership with Japan-based Envision AESC
Jobs will be created at factory and in supply chain.
Nissan has confirmed plans to build a new battery plant at its Sunderland site, creating more than 1,600 jobs
Nissan's Sunderland factory
The site will build batteries for electric vehicles, in partnership with Envision AESC, which already runs an existing factory near the Sunderland plant makeing batteries for the Nissan Leaf.
Japan-based Envision AESC also has factories in the United States, China and Japan.
The Sunderland site is expected to open in the next few years, with contributions from the Government.
Jobs will be created at the factory as well as in the supply chain.
Today's announcement comes just days after a report warning a series of factories producing electric car batteries will be needed to secure the future of the country's automotive industry.
The study, commissioned by the Society of Motor Manufacturers and Traders (SMMT), said the Government should announce a "binding target" of 60 gigawatt hours of battery capacity to be in place by 2030.
It says the so-called gigafactories would allow UK manufacturers to build up to a million electric cars a year and ensure tariff-free access to "critical" markets in the European Union under the Government's Brexit deal.
The study, written by policy and research company Public First, also called for the installation of at least 2.3 million charging points nationwide before the end of the decade to give drivers – particularly those with no off-road parking at home – the confidence to invest in zero-emission vehicles.
The report urges the Government to launch a Build Back Better Fund to support the transformation of the industry and says there is potential for 40,000 jobs, offering the North East, as well as West Midlands, a major boost.
And the document warns the industry "risks decline" if there are not "competitive conditions", leading to the loss of around 90,000 jobs.
Details emerge about the new gigafactory as company chief announces plans
Information about the plans is now being released by the car giant, with the company's Chief Operating Officer Ashwani Gupta making a speech at the Wearside site.
It has confirmed EV36Zero, a £1 billion flagship Electric Vehicle (EV) Hub creating a world-first EV manufacturing ecosystem will be built in the city.
In a statement, the company said: "Centred around the record-breaking plant in Sunderland, UK, Nissan EV36Zero will supercharge the company's drive to carbon neutrality and establish a new 360-degree solution for zero-emission motoring.
"The transformational project has been launched with an initial £1bn investment by Nissan and its partners Envision AESC, a global player in world-leading battery technology, and Sunderland City Council.
"Comprised of three interconnected initiatives, Nissan EV36Zero brings together electric vehicles, renewable energy and battery production, setting a blueprint for the future of the automotive industry."
Development expected to be a massive boost to the UK's car manufacturing industry
In addition to the 1,600-plus jobs the production line will create in Sunderland, an estimated 4,500 roles will be generated in supply companies under the investment of £1 billion.
More than £420 million will be invested in building a new-generation all-electric vehicle.
The news was warmly welcomed by the Government and unions representing workers in Sunderland.
Prime Minister Boris Johnson celebrates the news
Prime Minister Boris Johnson said: "Nissan's announcement to build its new-generation all-electric vehicle in Sunderland, alongside a new gigafactory from Envision AESC, is a major vote of confidence in the UK and our highly skilled workers in the North East.
"Building on over 30 years of history in the area, this is a pivotal moment in our electric vehicle revolution and securing its future for decades to come.
"Commitments like these exemplify our ability to create hundreds of green jobs and boost British industry, whilst also allowing people to travel in an affordable and sustainable way so we can eliminate our contributions to climate change."
'Landmark day' for Nissan, says chief as he talks about what the plans mean for the company
Unveiling Nissan EV36Zero at the Sunderland Plant today, Nissan's Chief Operating Officer, Ashwani Gupta, said:
"This is a landmark day for Nissan, our partners, the UK and the automotive industry as a whole. Nissan EV36Zero will transform the idea of what is possible for our industry and set a roadmap for the future for all.
"We reached a new frontier with the Nissan LEAF, the world's first mass-market all-electric vehicle. Now, with our partners, Nissan will pioneer the next phase of the automotive industry as we accelerate towards full electrification and carbon neutrality."
Sunderland City Council's chief executive backs the plans - and speaks of pride in city's part in changing industry
Patrick Melia, commented: "Sunderland is an ambitious city and today's announcement is game changing.
"A transformational project for a transforming city, we are enormously proud to be playing our part in a world leading project."
His comments come as Nissan's workforce listen in to today's announcement on the factory floor.
Workers listen as Nissan's Chief Operating Officer Ashwani Gupta announces that the Japanese car giant is to build a new electric model and huge battery plant in the UK in a massive boost to the automotive industry. Photo by Owen Humphreys/PA Wire
Business Secretary says decision to launch plant is 'a solemn commitment to the people of Sunderland'
UK Business Secretary Kwasi Kwarteng has been among those to welcome today's announcement.
"This fantastic investment by Nissan and Envision-AESC represents a solemn commitment to the people of Sunderland, bringing further high-skilled jobs and turbocharging our plans to level up the North East.
"This is a huge step forward in our ambition to put the UK at the front of the global electric vehicle race, and further proof, if any was needed, that the UK remains one of the most competitive locations in the world for automotive manufacturing.
"I am extremely proud that Nissan has not only reaffirmed its belief in Britain, but is doubling down on its long-standing commitment to our country.
"The cars made in this plant, using batteries made just down the road at the UK's first at scale gigafactory, will have a huge role to play as we transition away from petrol and diesel cars and kick-start a domestic electric vehicle manufacturing base."
Wearside MP shows her support for Nissan's pledge to back jobs in the city and beyond
Sharon Hodgson, Labour MP for Washington and Sunderland West, said the project could "transform car-making in the UK".
She added: "I have been working with Nissan to call on the Government to invest locally in the Nissan supply chain.
"The Sunderland plant is the jewel in the crown not only for Nissan but for our region's economy – with local jobs and a local supply chain, we in the North East benefit most.
"This announcement is also testament to Sunderland City Council's dedication to becoming a city of the future, providing green energy, green jobs and green investment."
"It puts Sunderland at the forefront of electric vehicle manufacturing."
Leader of Sunderland City Council, Cllr Graeme Miller Nissan says he's "delighted for the workforce, delighted for the city, delighted for the region and the UK".
What is an EV battery and how is one made?
An electric vehicle is powered by Lithium-Ion batteries, which release stored energy on demand when the EV is driven.
Lithium-Ion batteries are made by putting cathode and anode electrodes on top of each other, with separator material in between.
This is all then encased in a pouch and an electrolyte is injected, which results in a battery cell.
The battery cell goes through an ageing and charging process to become an active battery cell.
Cells are connected together and put in a metal casing, which creates a battery module.
Modules are then connected together in rigid casing and after battery management systems are added, this becomes a battery pack.
The complete pack is fitted into the Electric Vehicle as part of the vehicle assembly process.
Union say Nissan's announcement of a gigafactory for Sunderland is a fantastic first for the UK - but cannot be the last
Unite has warned that six more battery factories urgently needed just to 'stay at the races'.
Speaking at the Sunderland plant, Steve Turner said: "Today is a vital step forward in securing a cleaner, greener future for our industry.
"Nissan and this incredible workforce were determined that Sunderland should lead the pack as we transition to electric vehicles and today they have delivered.
"They have battled for years to convince the government to support and invest in UK battery manufacturing, and today's very welcome announcement will bring much-needed job security to the plant and thousands of new skilled jobs to the region.
"Today is their victory and I am so proud of the role our union, Unite, played in supporting them every step of the way. But this fantastic first must not be the last.
"We need at least another six giga-factories to secure the UK's future as a green auto manufacturer, with investment in the domestic manufacture of the high value components all urgently needed to successfully transition this industry and consumers away from the combustion engine."
Nissan is to build a new electric model in Sunderland in 'massive boost' to the automotive industry
More than 1,600 jobs will be created in Sunderland and an estimated 4,500 in supply companies under an investment of £1 billion.
More than £420 million will be invested in building a new-generation all-electric vehicle.
The Sunderland-based project announced today represents 6,200 jobs at Nissan and its UK suppliers, including more than 900 new Nissan jobs on the production of the new car and 750 new Envision AESC jobs at its new battery plant.
Nissan confirm there is currently 'no name' for new electric vehicle
Little information about the new model has been released, including the name and images of the electric car.
Following the announcement to build the new model, Nissan have confirmed there is currently no name for the car.
Sunderland City Council leads project to deliver a 100% renewable electricity 'Microgrid' to save 55,000 tonnes of carbon annually
A first-of-its-kind project, which is estimated to be an £80 million investment, will add to Nissan's existing wind and solar farms, as initial plans suggest there could be as many as ten solar farms created.
The company anticipate that there will be a 132MW generation with a direct connection to renewable energy from the UK grid for 'firm' supply to Nissan and automotive companies located on the adjacent International Advanced Manufacturing Park (IAMP).
Plans also include a 1MW battery storage system using second-life Nissan EV/Envision AESC batteries, which will also allow for excess energy generated during daylight hours to be captured and used at another time, helping to balance demand on the grid.
Additional infrastructure projects enabling the creation of the new EV Hub take the total initial investment above £1bn.