Hebburn pupils become Holocaust tour guides for Anne Frank exhibition
Pupils at a South Tyneside School have been trained by the Anne Frank Trust as historical tour guides to show groups around an exhibition about the Holocaust and educate them about the horrors inflicted on the Jewish race by the Nazi regime.
Published 3rd Feb 2023, 16:32 BST

- 2 min read
Updated 3rd Feb 2023, 17:28 BST
The mobile exhibition, which chronicles the life of Anne Frank and the rise of antisemitism, was set up in Hebburn Comprehensive School as part of Holocaust Memorial Day on Friday January 27.
Since then, around 20 Year 9 students have undertaken two days of specialist training to run the tours for primary school pupils, parents and younger children at the school.
The training included learning about the history of the Holocaust and Anne Frank as well as how to project your voice and the correct tone to use to show enthusiasm for the exhibition while at the same time conveying the seriousness of the topic.
After taking groups of parents on a tour of the exhibition, Oliva, 14, said: "I was a little nervous about taking groups of parents on the tour, but I enjoyed it. I've been made an Anne Frank ambassador by the Trust and it's really important we remember all those people who lost their lives.
"I'm really interested in sharing stories from the past and this experience has made me consider working as a museum tour guide when I leave school."
Nery, 14, added: "I really enjoyed working as a tour guide. We learnt how to speak clearly but to use the correct tone at different stages of the exhibition."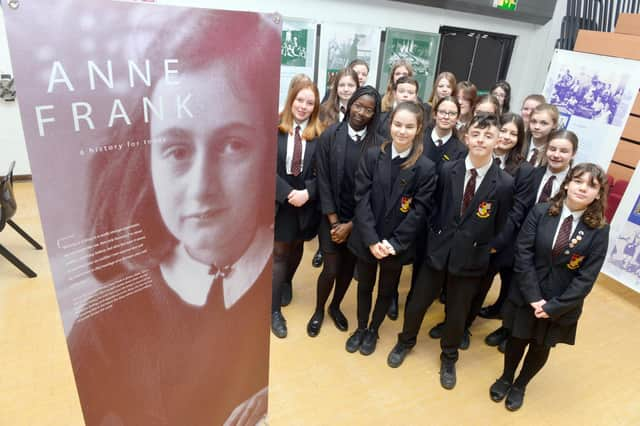 As part of their training, pupils enjoyed an online virtual meeting with Holocaust survivor, Trude Silman, 93, whose dad perished in a Nazi concentration camp.
Hannah, 13, said: "It's really important to learn about the Holocaust as it educates people about prejudice and why we should stand up to it so nothing like this happens again."
Anthony, 13, added: "It has been fascinating to learn about the Holocaust and it's really important to learn about this event as not many of this generation are still around and what happened to these people needs to be passed on to future generations."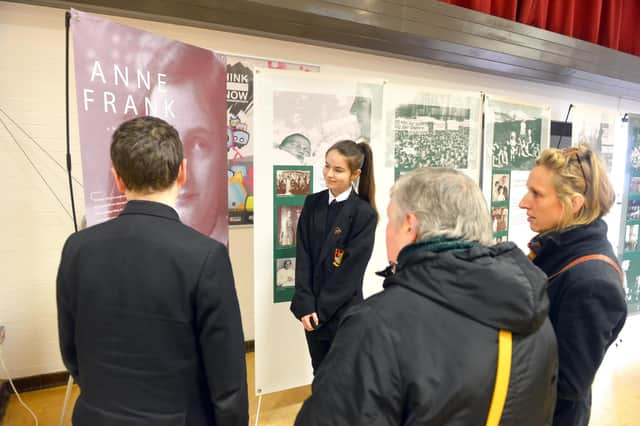 The training and exhibition were organised by History teacher Nikki Brooker and RE teacher Claire Sharp.
Ms Brooker said: "In the UK there are only six survivors left who experienced the Holocaust and so it's vital young people are educated about what happened and we learn lessons from it.
"The Holocaust didn't start with extermination camps but from a rise in prejudice against Jewish people. That's why it is important that children and young people who witness any forms of racism report it."
Ms Sharp added: "The pupils have really enjoyed learning about Anne Frank and taking on the role of tour guides. They are a similar age to Anne Frank when she experienced the Holocaust and wrote her diary and this helps the children to relate to her.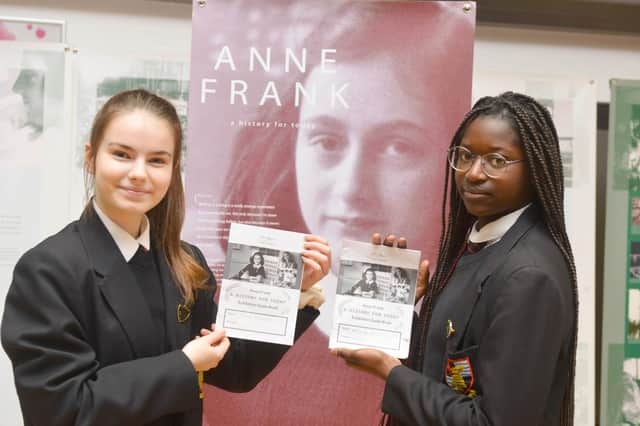 "It's important for the pupils to learn about the prejudice which led to the Holocaust and its vital we don't repeat the mistakes of the past."