Watch as South Shields' nursery staff vent their 'disgust' after thousands of dirty nappies and PPE dumped outside their premises
Staff at a South Shields' nursery have been left 'disgusted' and 'intimidated' after bags of thousands of dirty nappies and PPE have been dumped both inside and outside their premises, forcing them into to dispose of the soiled items in their own clinical waste bin.
Published 1st Feb 2023, 04:55 GMT

- 3 min read
Ashfield Nursery & ELC on Stanhope Road has been subjected to the fortnightly dumping of illegal waste since the first incident on Tuesday November 22, which was discovered by manager Rebecca Pearson.
She said: "I arrived at 7am to find around 20 bags filled with soiled nappies and PPE which had been dumped outside the gate. They were in-front of the car park, so I had no option but to put them into our clinical waste bin before parents and staff arrived.
"I couldn't leave them, as bags full of nappies outside of a nursery would inevitably lead to people thinking they were ours."
What Rebecca hoped would be a one off incident has turned into a pattern of repeated dumps, literally leaving staff with the dirty job of picking up the pieces.
She added: "It has happened six times, and each time we've had to clean it up, or risk being blamed. It's absolutely disgusting. Who knows how long the nappies have been in the bags and they absolutely stink.
"On occasions they've been ripped open by cats and dogs and myself and other staff had to pick up all the dirty nappies. Cleaning up our own nappies is part of the job but you don't expect to have to do it for someone else."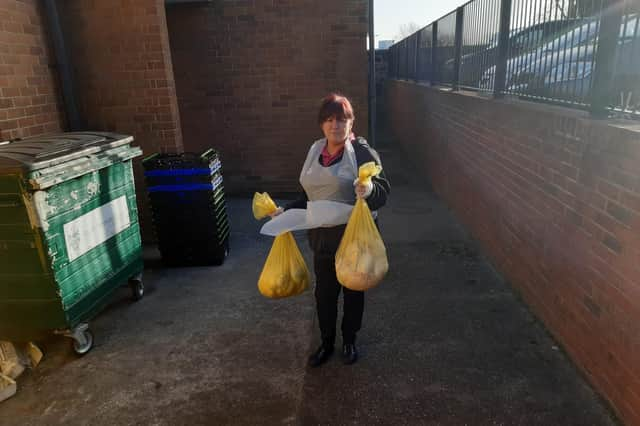 The nursery pays a minimum fee of £1,200 per year to waste disposal company FCC which, coupled with the volume of waste, has led Rebecca to think the waste is not being dumped by a private household.
She said: "There are usually around 20 bags of 40 nappies which totals around 800 nappies, and so it must be from another childcare setting who are unwilling to pay the disposal costs."
The situation has escalated in the last week with Rebecca coming across who she believes to be the perpetrator, and the dumping taking a more "sinister turn".
She said: "On Monday morning (January 30) I found 20 bags on the path. I went to get my PPE on to dispose of the bags and saw a man on our premises next to the bin.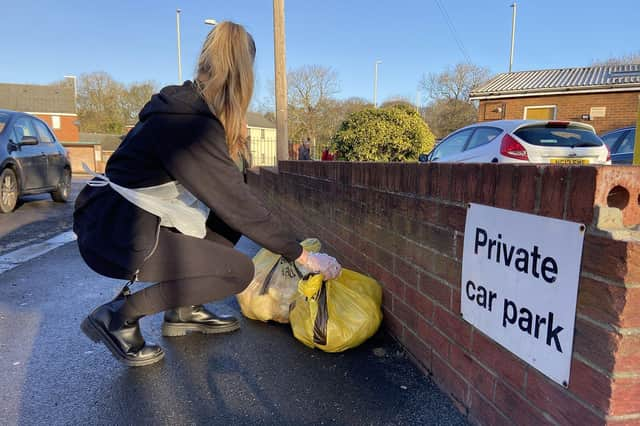 "He pulled up his hood and ran off, but it was very worrying."
Nursery practitioner Marie Gibson added: "It's intimidating for staff who are coming in early in the morning and especially the cleaner who leaves the building on a night-time.
"On the last occasion, the bags he dumped the previous day were taken out of the bin and the nappy sacks thrown on the path, which suggests it's becoming malicious."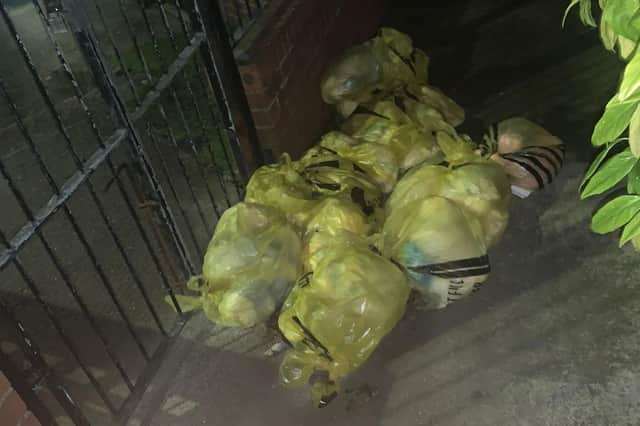 Following the first incident, the nursery contacted both Northumbria Police and South Tyneside Council.
A Council spokesperson said: "Waste disposal on private land is the responsibility of the land owner. However, where an offence and offender can be identified the Council's' Environmental Enforcement Team will take appropriate action.
"In this case we can confirm we have identified a suspect. We continue to work with our partners. Investigations are ongoing."
A Northumbria Police spokesman added they're "aware" of the incidents and are "assisting the council".