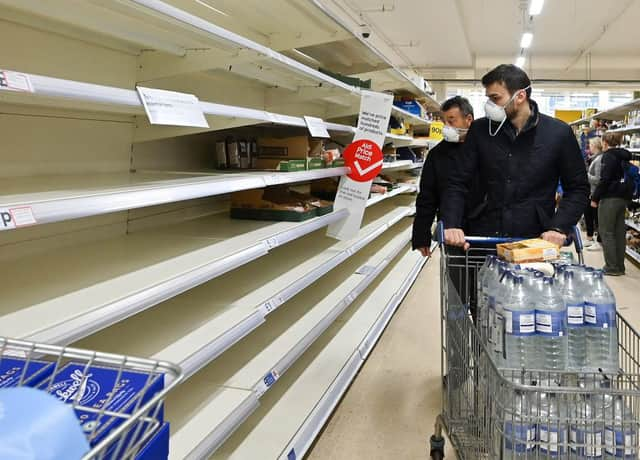 Shoppers across the country have begun stockpiling household items over shortages fears (Getty Images)
Scroll down and read our coronavirus live blog as it happened.
Before you do that here are some articles offering practical advice
We will be providing live updates until 5pm
Coronavirus live blog, March 16
Last updated: Monday, 16 March, 2020, 17:06
Several Scottish schools close
A number of Scottish schools have been forced to close as cases in the country continue to rise.
Dunblane High School was forced to close after a pupil tested positive for Covid-19.
Knockbreck Primary School, and Craighill Primary School in Tain have also been closed, as has Perth High School which is currently undergoing a deep clean.
Hazlehead Academy and Glashieburn School in Aberdeenshire have also been forced to close for an undisclosed amount of time, along with Willowbank School in East Ayrshire.
Several schools in Shetland, which has 11 reported cases, are also set ot close.
BBC to delay over-75 license fee changes
The BBC have just announced that they will delay the introduction of changes to the license fee for over-75s in light of the coronavirus situation.
A joint statement by the BBC and government read: "The BBC and the Government have been discussing the national coronavirus situation. Changes to the TV licence for people aged over 75 had been due to come into effect on June 1.
"But during this time we do not want anyone to be worried about any potential change.
"The BBC's priority over the coming period will be to do everything we can to serve the nation at this uniquely challenging time. As the national broadcaster, the BBC has a vital role to play in supplying information to the public in the weeks and months ahead.
"Recognising the exceptional circumstances, the BBC Board has therefore decided to change the start date of the new policy. Our current plan is to now bring it into place on August 1. We will of course keep the issue under review as the situation continues to evolve."
David Lammy on decision to hold daily press briefings
Reports: France set for five-week lockdown
British man seriously ill in Vietnam
A 69-year-old British man is reportedly in a serious condition in Vietnam, according to Vietnamese outlet vnexpress.net
The man who travelled from London to Hanoi on March 2 is said to be living with serious health conditions including diabetes and hypertension
Sports fans seek out alternative sports
Shadow education secretary urges Richard Branson to sell island
Earlier today Virgin Atlantic reduced its flight schedule in the wake of the coronavirus,
Shadow education secretary Angela Rayner took to Twitter to urge owner Richard Branson to sell his private island to cover the cost to employees.
She tweeted: "Richard flog yr private island and pay yr staff, we are in unprecedented times here. Now is the time yr staff need support after making mountains of cash for the company."
Car manufacturers called on to make life-saving ventilators
The UK government has called on the likes of Rolls Royce and Ford to put their manufacturing know how towards producing medical equipment, including ventilators.
Downing Street have called upon the manufacturing industry "to come together to help the country".
Questions have been raised by some over how ready these manufacturers are to switch production.
Filming of Line of Duty and Peaky Blinders suspended
As well as disrupting the sporting calendar, coronavirus is throwing the production of popular TV shows into disarray.
Series 6 of Line of Duty has officially suspended with the support of BBC.
It was earlier announced that production of the latest series of Peaky Blinders has also been halted.
Figures out later today
The latest figures on coronavirus cases are typically published at 2pm, but will come later today.