Innovation proves a success in treating shoulder injuries
A piece of gym kit which inspired a medical innovation is being put to use to treat one of the most common injuries seen in Emergency Departments across the NHS, thanks to doctors-turned-inventors from Sunderland.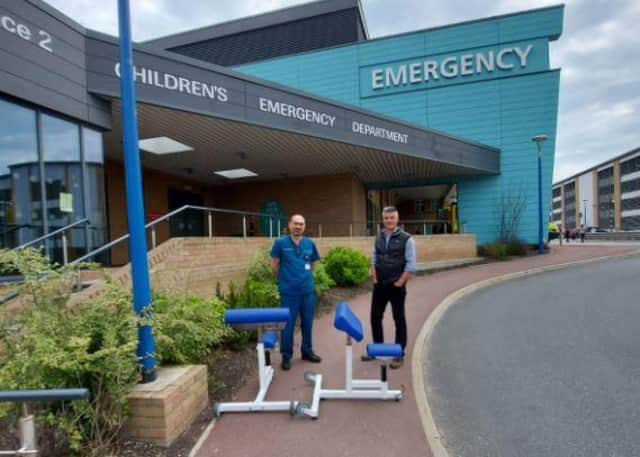 Consultant Dr Ala Mohammed and Paul Marshall with the shoulder bench outside Sunderland Royal Hospital's Emergency Department.
Sunderland Royal Hospital Emergency Medicine Consultant Dr Ala Mohammed came up with the idea of modifying a preacher bench to create a 'Shoulder Reduction Bench' in 2016.
He has since worked with fellow Emergency Medicine Consultant Dr Philip Dowson to put the kit to use, significantly improving the treatment and recovery for patients who attend the Emergency Department with a dislocated shoulder.
The innovation has led to a fall in the number of patients needing to be sedated and has shortened the length of time patients spend in hospital by offering quicker treatment for painful shoulder injuries.
Emergency practitioners working within the Trust's Emergency Department in Sunderland have learned a new skill by putting it to use and staff within the Emergency Department at South Tyneside District Hospital are soon set to get their own.
Sunderland's equipment is used around three times a week and as the original kit began to show signs of wear and tear, the Trust's Research and Innovation Team worked alongside the Emergency Medicine Consultants and engineering consultant Paul Marshall of Marshall DPP, to develop a bespoke 'Shoulder Reduction Bench' to put into production.
The updated version's pat ent and design has been filed, which means other hospitals across the country could commission one in the future.
The value of the equipment to South Tyneside and Sunderland NHS Foundation Trust became clear during the pandemic. It helped to reduce the number of people needing to be admitted to hospital for sedation for a shoulder injury, meaning vital beds could be kept free as the NHS managed the pandemic.
Dr Dowson said: "It is exciting to know that the work we have done with the Research and Innovation Team and Marshall DPP may have a wider benefit beyond our Trust.
"Fundamentally, all we want for our patients is to be treated as safely and as efficiently as possible, and the shoulder reduction bench certainly helps tremendously with that."
Dr Mohammed said: "It has been a real privilege to be part of the Research and Innovation Team to see our hard work come into fruition.
"Now we have a product aimed to help patients with dislocated shoulders in our Trust by reducing reduction times and the need for sedation.
"We look forward to serving our community and beyond."
Paul Marshall said the project showed the value of the Trust's 'innovation pathway' which sees outside organisations work with the NHS to develop ideas.
Paul Marshall added: "This made it very easy to understand and document Ala and Phil's requirements and design them into a final product as a medical device."