South Shields resident receives free life-changing eye surgery - and here's how you can too
Optegra Eye Health Care is located in Team Valley in Gateshead.
Published 26th Mar 2023, 13:23 BST

- 2 min read
Updated 26th Mar 2023, 13:25 BST
Optegra Eye Health Care, which specialises in cataract surgery and other eye services across the UK, have a North East based clinic located on the Team Valley Trading Estate in Gateshead. The clinic is currently offering free NHS cataract surgery to local residents and have recently done so for a South Shields woman.
The woman faced a number of issues with her eyes and vision, including a very high and complex prescription of -13.5, and floaters. Medical tests also revealed that the walls of her eyes were thinner than usual.
Previous clinicians had told the woman that surgery was not an option for her, however after visiting Optegra Eye Clinic for a second opinion, she was able to have surgery after all.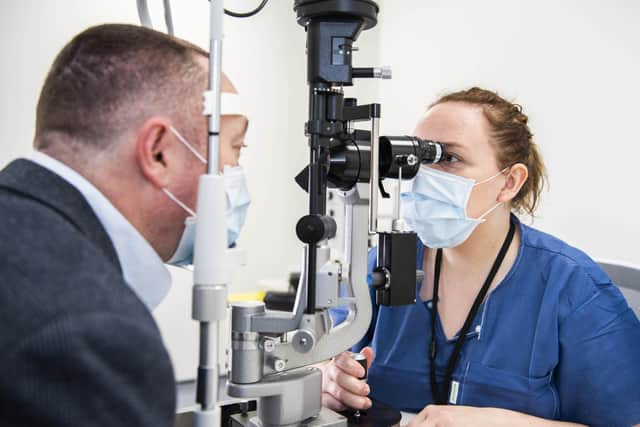 The woman, 53 said: "I have been wearing glasses since the age of seven and, with a very strong prescription of -13.5 in my left eye and -9 in my right, the lenses were incredibly thick. It always made me feel self-conscious.
"Although I was told two years ago that I had cataracts, they weren't affecting my vision too much. Last year however, I was struggling to see the computer screen at work which is a big issue as I take minutes, so really need very clear vision.
"I even had to stop driving as did not feel confident on the road, and my hobbies of knitting, reading and embroidery were becoming more challenging. My poor vision was starting to affect so many different aspects of my life."
The woman was referred to Optegra Eye Clinic, who told her that surgery could be done. She said: "I couldn't believe it when they told me they could do the surgery. What's more, I had a phone call 15 minutes after returning home from my initial consultation to say they had a cancellation for the next day, so I didn't even have long to think about it."
Mr Usman Mahmood, consultant surgeon at Optegra Eye Clinic said: "She had an extremely strong prescription and very dense cataracts. The cataracts were seriously impacting her day-to-day activities. Although she was at a higher risk because of her very long eyeballs, extremely dense, hard cataracts and thin sclerae, we were able to successfully remove both cataracts and provide her with the vision she deserves. It was a pleasure to treat her and we are delighted that we have made such a positive impact on her life."
The woman applauded Optegra for their friendliness, as well as allowing her to feel confident again. She said: "I was unable to see into the future before and now I am excited to be making plans again.They have given me my life back and I will be forever grateful."
The woman also donated to CBM UK - a charity which enables those in Africa and India to access cataract surgery.
To receive free NHS cataract surgery from Optegra within weeks, patients must ask their GP or optician for a referral.