Watch as new MRI scanners are craned into new £10m South Tyneside medical centre
The centre is due to open next month.
A series of scanners have been craned into place as plans progress at pace to open a new £10 million Integrated Community Diagnostic Centre at South Tyneside District Hospital.
Two MRI scanners were the first to arrive at the centre which is due to open at the start of April.
The MRI equipment has since been joined by two Computerised Tomography (CT) scanners. The centre is also set to become home to the Trust's first permanent PET-CT scanner, expected to arrive in the coming months.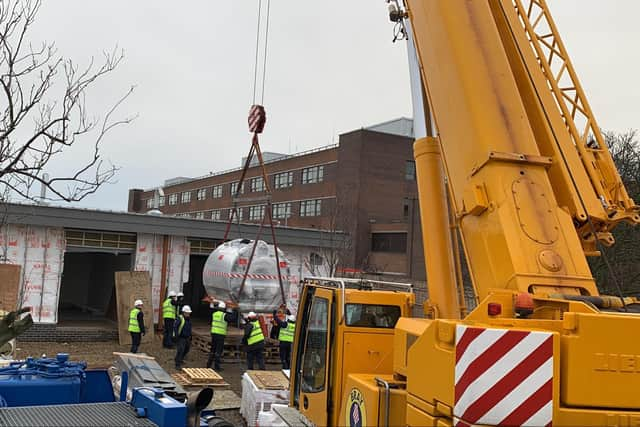 A mobile PET-CT scanner has been visiting the hospital each Saturday since early 2022 and will remain in place until the permanent scanner is in place. This has meant that patients have been able to have this specialist scan locally rather than travel to Newcastle or Middlesbrough.
A PET-CT scan uses a mildly radioactive drug to show areas of the body where cells are more active than normal and supports earlier cancer diagnosis.
The Integrated Diagnostic Centre will also feature a 'docking' station for mobile scanners that may be needed to cope with future demand.
Trust Chief Executive, Ken Bremner MBE said: "We are really excited to reach this next crucial stage in this fantastic project."
"The fact that this will see the first permanent PET-CT scanner set up in our area is also a huge step forward for us and means we can offer them that appointment much closer to home than would otherwise have been possible. The centre will help us increase capacity so many patients may not have to wait as long for their scan."