10 photos from South Tyneside in 1989 - the year of Band Aid 2 and Cliff Richard flying high in the Christmas charts
It's the year when Sir Cliff and Band Aid II dominated the Christmas charts.
Monday, 21st December 2020, 2:18 pm
Updated
Monday, 21st December 2020, 2:19 pm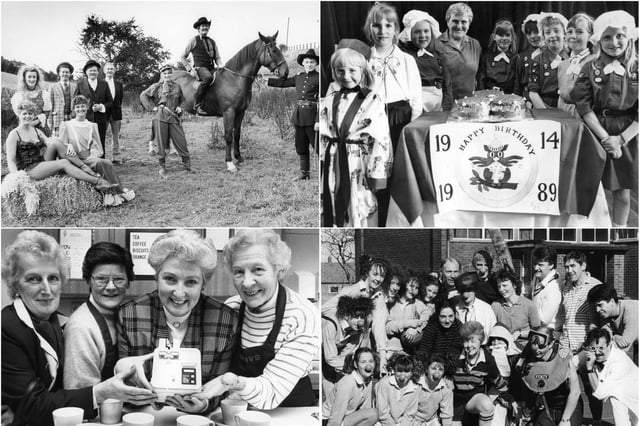 We have lots of 1989 photos to share with you. Take a look.
It was the Jolly Boys outing edition of Only Fools and Horses on BBC1 and the Boswells were enjoying Christmas in Bread.
We're talking about 1989 and we are heading back in time to find out what was happening closer to home.
We have 10 retro photos to show you from South Tyneside 31 years ago and we hope they bring back great memories.
South Shields Amateur Operatic Society members who were performing in Calamity Jane. Pictured left to right are: Denny Wilson, Lyndsey McCaffery, Helen Lowther, Peter Brack, Alan Greaves, John Ridley, Enid Bilton, Peter Charlton with Lucky, and Lawrence Chadwick.
The interior of Dexter's 69 Bar 30 years ago. Does this bring back memories?
Brownies from the 4th St Pauls and the 5th St Peters were pictured on an open night for the girls parents at St Peters Church Hall. Pictured with them is Brown Owl Caroline Waggott.
The School Street flats which were bulldozed in 1989. Does this bring back memories?
These budding journalists from St Wilfrids Comprehensive School produced a French newspaper in 1989. Can you spot anyone you know?
A huge audience greeted The Drifters when they came on stage for their concert in Bents Park 31 years ago. Were you there?
Mortimer Comprehensive pupils with the new badge they helped design. Left to right are: Brian Hope, Carl Randall, Michael Carr, Philip Wile, Shria Begum and Joanne Wood.
Margaret Rushton, head of midwifery at South Shields General Hospital, was pictured receiving an infusion pump for the ante-natal clinic in January 1989. Pictured with her left to right are: Vera Skinner local WRVS organiser with tea bar ladies Marion Clarkson and Dorothy Cousins.
Staff and pupils at Redwell Comprehensive competed in a fancy dress netball match for Comic Relief. Did you take part in March 1989?
This scene from June 1989 show pupils at Highfield Infants School but who can tell us more about the occasion?
How many of these scenes did you remember? Tell us more by emailing [email protected]