9 photos of the South Tyneside teachers you've loved over the years as we get ready for schools re-opening
Children and parents across South Tyneside are getting ready for the return of school days.
Monday, 22nd February 2021, 1:50 pm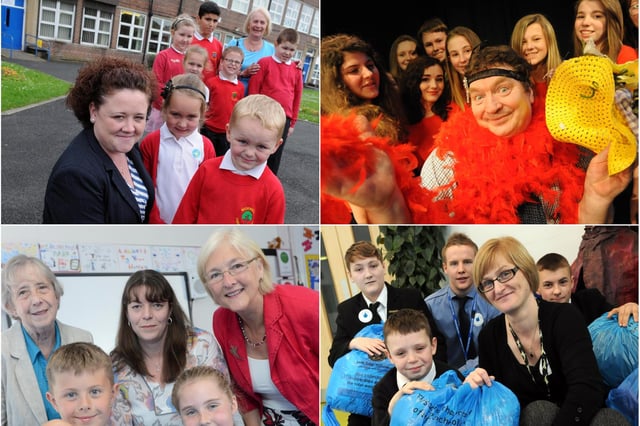 A look back at teachers across South Tyneside and the times they made the news.
They are set to re-open on March 8 as part of the plans to lift the coronavirus lockdown.
We know you have missed them so here is a reminder of teachers across the borough and the role they have played in our lives over the years.
From Harton to Whitburn, we have put the spotlight on teachers doing what they do best and that is going out of their way to help others.
Harton Primary School are winners of a poetry competition in 2019. Teacher Stephanie Robson was pictured with some of her pupils. Recognise them?
Take a look and see if our photo collection brings back great memories.
A 2011 photo showing Mortimer Community College pupils with teacher Sarah Nevis, centre, who were heading to Kenya.
Pictured in this sports leadership academy photo at St Wilfrid's RC College in 2012 were PE teacher Helen Nuttall with her pupils. Can you spot someone you know?
Harton Technology College art and drama teacher Harry Lynch was pictured rehearsing his final performance, Swan Song, with pupils in 2016.
A 2013 photo showing the Bag 2 School donation collections at Boldon School. Front is Cain Murray with teacher Clare Turnbull. Back from left to right is Dominic Batay, Iain Usher and Dylan Steadman.
Children from Oakleigh Gardens School won a Young Enterprise Team Programme Award. Head teacher Derek Cogle is also in the picture in 2012.
Bedewell Primary School, Hebburn in 2012 with Acting Headteacher Amanda Moody, front, and teacher Eve Henderson with pupils outside the school. Remember this?
Whitburn Village Primary pupils were pictured in 2015. Abigail Ellis and Luke Halle were in the picture with Coun Moira Smith, left, assistant head teacher Susan Beetlestone and Coun Joan Atkinson, right, but who can tell us more?
Bamburgh School humanities teacher Karen Fairbairn became a UN accredited climate change teacher in 2019.
Is there a teacher from the present day or the past who deserves praise? Tell us more by emailing [email protected]