9 photos to remind you of South Tyneside in 1991 - from the era of Right Said Fred, Hook, and Only Fools and Horses
You loved the Fresh Prince of Bel Air and Birds of a Feather. You danced to Jason and slow danced to a mega hit from Bryan Adams.
Friday, 30th October 2020, 7:00 am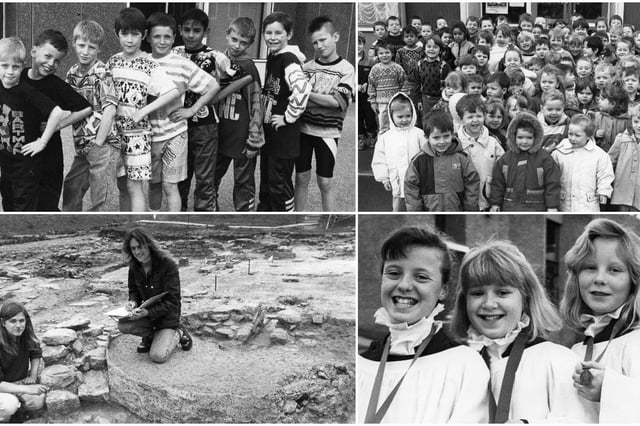 How many of these scenes do you remember? Find out more in the photos which follow.
And closer to home, you were pictured doing charity work, sponsored runs and much more in South Tyneside.
To prove it, we have put together a wonderful selection of Gazette archive photos from 1991 and here they are.
So whether you are from Lukes Lane or Quarry Lane, we have something for you all.
Lukes Lane pupils set off for their round the school walk for Romania in February 1991. Is there someone you know in this photo?
Take a look, re-live the memories and then get in touch to tell us more.
Choir members of St Mark's and St Cuthbert's Church, Quarry Lane won the Dean's Award from the Royal School of Church Music in 1991. Left to right are: Rachel Matheson, Caroline Smith, Ashleigh Simpson and Kate Matheson.
These boys weren't shy when it came to modelling sports and leisure wear. Do you recognise any of them?
County Hotel regulars were ready for a run in 1991. Left to right are: Gillian Sexton, Roz Mensforth, Jan Sinclair, Wendy Jago, front, Julie Charlton, Sheila Ford. But what was the occasion? Tell us more.
Archaelogists Leon Jazdzejewski, left and Eddie Dougherty, working on the excavated cold plunge bath of the private bath suite in the commanding officer's house of South Shields Roman Fort.
Cunard dual course students Miles Bennett and Nick Gilbert wait at table at South Tyneside College restaurant as part of their college course. Pictured are customers Joyce and Graham Ivan. Does this bring back memories?
These Whitburn Junior School pupils completed the Gosforth Fun Run in aid of the Royal Victoria Infirmary. They are pictured with children's cancer unit nurse specialist, Diane Barstow. Also pictured, Paul Bailey, Cirk Newton, Kay McQuire and Laura McIver.
The sport and achievement winners at West Boldon Primary School annual presentation awards. Are you pictured?
A digger clears another load of bricks and mortar away from the Ingham Infirmary which is to make way for housing.
We hope these archive photos bring back happy memories. If they do, contact [email protected] to tell us more.