Are you pictured in these 15 retro photos of South Tyneside stores over the years?
We all love a visit to our favourite store – but have you been pictured at one?
Wednesday, 11th March 2020, 4:45 pm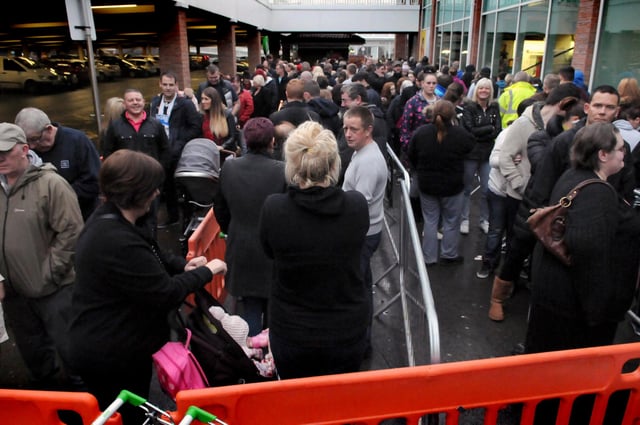 Black Friday shoppers at Asda, Boldon in 2014. Are you in the picture?
Take a look at our 15 photos which all show people in the spotlight at shops and stores across South Tyneside.
Were you pictured with Pudsey at Asda in 2011, or got festive at Morrisons in 2015?
Were you spotted at Sainsbury's in 2013 or seen at Adams in 2007.
Cake galore - and a visit from Pudsey - in this nine-year-old photo at Asda Hebburn. Remember this?
We have all this and more in this retro photo spread. Take a look and tell us more.
The official opening of the Disney store at Asda Boldon and Charlie Richardson, Ellie Stephenson and store manager Lyndsey Goldsbrough were all there to enjoy it.
Alfred the dog was in on the picture when the new Pets at Home store opened in 2012. Are you pictured with him?
The opening of the new Store Twenty One in King Street. Remember this from 2011?
Brownies from Mortimer Primary School receive a Sainsbury's Active Kids Paralympic Challenge kit from store manager Lee Chilton and Dawn Nixon. Were you one of the people pictured in this 2009 scene?
Whiteleas Way One Stop store fundraised for Whiteleas junior football team in 2012. Does this bring back great memories?
Sainsbury's Prince Edward Road store manager John Wilby cycling from Scarborough to Carlisle with other store managers. Does this bring back memories from seven years ago?
Bairns Boutique owner Karen O'Brien, manager Stuart Urwin, centre, and IT Administrator Karl Hawes, left, launching their online and in store business in 2012. Remember this?
South Shields Marks and Spencer staff were cycling the length of the Coast to Coast cycle route within the store for charity. Were you one of the team in the saddle in 2012?
Deputy mayor Fay Cunningham opens the refurbished British Heart Foundation store on King Street in 2014. Are you pictured?
Greenwoods menswear store is pictured in 2013 in King Street, South Shields. Does this bring back happy memories?
The Baring Street convenience store is officially opened in 2012, but were you in the picture?
South Tyneside Youth Orchestra is pictured playing Christmas carols outside the Adams store in 2007. Do you recognise anyone in the photo?
It's all festive at Morrisons in this 2015 scene but are you one of the people pictured?
We hope you recognise some of the people in these retro photos. If you do, tell us more by emailing [email protected]