Seventeen pictures which hark back to school life at South Shields's Harton Academy
It is Harton Academy to today's pupils, Harton Technology College to recent leavers and Harton Comprehensive School to, erm, our more "mature" readers.
Wednesday, 11th March 2020, 4:27 pm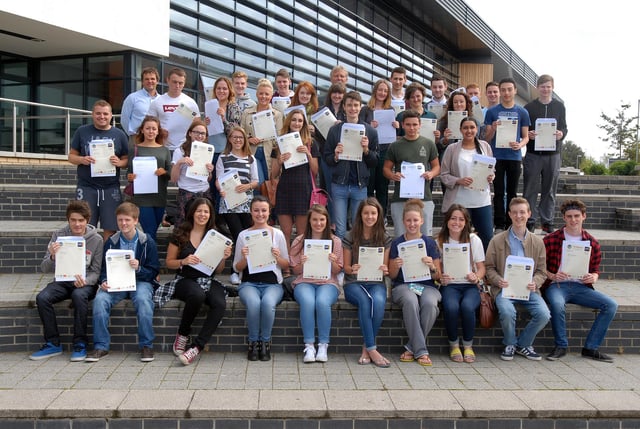 Harton Technology College celebrate their A-level results in 2014.
Here's our latest picture tribute to the South Shields school. If you enjoy it then why not click through to view our previous bag of photographic memories here?
Back, left to right, Ian Conway, Craig Pearce, Stuart Robson, Mark McKenzie, Joel Cooke, Carl Ridley, Tom Brooks and Andrew Cheetham. Front, Kevin Topping, Jason Smith, Raymond Taviner, Scott Taviner, David Bowyer, Neal Parker and Lee Mellish.
Year 7 and 8 netball players at Harton in 2008.
Pupils get smart for the school's 2015 prom.
Scores of Year 11 pupils receive their GCSE results in 2014.
Pupils taking part in a 1987 challenge which our archives refer to as Wheeler Dealers.
Celebrating their GCSE results in 2015 are Hope Swan, Sophie Weightman and Bethany Train.
Harton Comprehensive School's cycling team in 1980.
Year 13 students enjoy their leaving prom on the banks of the River Tyne in 2014.
How the school looked in a picture we believe was taken in 1982.
And now here's a photograph of the entrance in 2015.
A-level students with their certificates in 2014.
An undated photo of Harton headmaster John O'Neill and pupils as they prepare for what described as an "eight-week" bus journey through Europe and Turkey to the crossroads of Pakistan, China, Russian and India.
Year 13 pupils celebrate their prom at Beamish Hall in 2013.
Headteacher Ken Gibson, left, with coaches and the school's Year 7 footballers in 2005.
Pupils celebrate their GCSE results in 2010.
Harton Year 10 footballers sport their new sponsored shirts supplied by Machining Techniques. Pictured with them is company secretary Diane Ditchburn.
Students celebrate their GCSE achievements in August 2012.