Free meals will help save South Tyneside families from 'dire impacts of food poverty' - chief's praise for Marcus Rashford's campaign victory
A South Tyneside Council chief has welcomed the Government's u-turn on funding food for more than one million pupils over the school summer holidays.
Wednesday, 17th June 2020, 2:36 pm
Updated
Thursday, 18th June 2020, 4:26 pm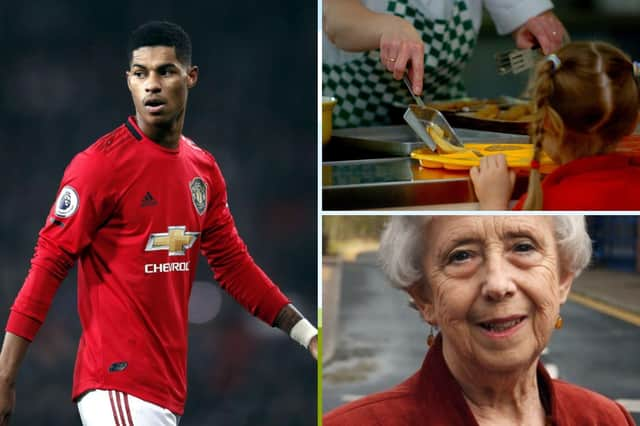 Left: Marcus Rashford Bottom right: Coun Moira Smith
Cabinet member for Children, Young People and Families, Coun Moira Smith, was speaking after Downing Street reversed its initial decision following a campaign from England footballer Marcus Rashford.
Around 1.3 million children nationwide are expected to benefit from a £120 million fund across the six-week break.
The extended scheme involves supermarket vouchers for families whose children are normally eligible for free school meals.
As well as praising Rashford, South Tyneside Council's education chief said the vouchers would be a "lifeline" for many families.
But she also added the Government could do more to tackle the "cycle of poverty" in the borough.
"It's welcome news that the Government has reconsidered its decision to provide supermarket vouchers for families entitled to free school meals, these will be a lifeline for many families in South Tyneside," Coun Smith said.
"Credit has to go to footballer Marcus Rashford whose campaign to extend the scheme has clearly been a critical factor in the Government finally agreeing to do the right thing.
"Those of us living in areas such as South Tyneside know only too well the dire impacts of food poverty. It is for this reason that we ran a series of summer clubs last year where children could access free activities and a meal and we had plans in place again this year to tackle holiday hunger.
"In South Tyneside we are committed to giving every child the best start in life and recognise that any child living in poverty is one too many.
"We also appreciate that the current pandemic is making life more challenging for everyone but that those already disadvantaged have been, and continue to be, hit hardest."
Coun Smith added: "We have been at the forefront of providing help and support for those most in need throughout the crisis, establishing a Covid-19 Hardship Fund and increasing the support we give to food banks to make sure food reaches those in hardship.
"It is a sad fact that this pandemic has exacerbated existing inequalities while drawing yet more families into poverty.
"While it is good news that our most disadvantaged children will not go hungry in the summer holidays, there is more the Government could, and should, do to end the cycle of poverty."
The Government announced the u-turn on Tuesday, June 16 with a Covid Summer Food Fund providing vouchers eligible to be used in supermarkets.
However, the scheme will not continue beyond the summer and has been described by the Prime Minister's official spokesperson as a "specific measure to reflect the unique circumstances of the pandemic."