CHILDLINE ADVICE: Shining a light on the issue of child abuse and of neglect
Tonight is a big night for our Christmas campaign, as we continue to raise awareness of child abuse and neglect across the country.
Monday, 14th December 2020, 12:00 am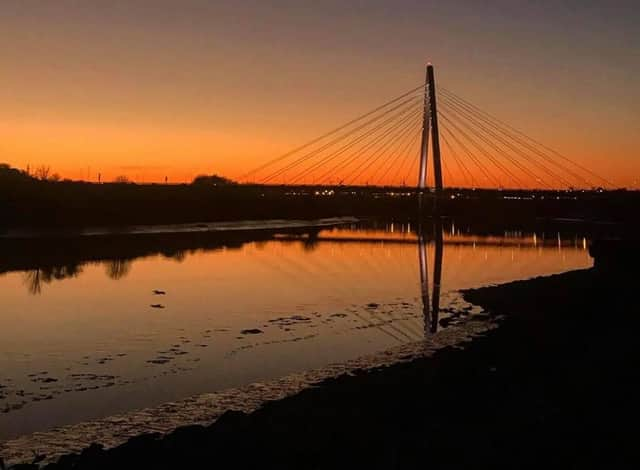 Light fantastic! Sunderland's Northern Spire bridge.
As part of that campaign, sites across Sunderland including the Northern Spire, Keel Square, High Street West, Fulwell Mill, the lighthouse in Cliffe Park and the Beacon of Light, will all be illuminated green tonight (December 14), to show their support for the NSPCC.
The illuminations will stand out against the darkness, and to help us remind the public we're here for children, whenever they need support, at what can be a very dark time of year.
Last year, we delivered 6,566 counselling sessions over the 12 days of Christmas, which included a 26% increase in counselling sessions about suicidal thoughts and feelings compared to the previous Christmas.
The pandemic changed everything this year, and while we don't know how many children will need us this Christmas, we do know we'll do everything we can to support them.
Despite all the challenges of 2020, we're going to be here for children throughout the Christmas period, but we need the help of our volunteers, our partner organisations, our fundraisers and the public.
But the problem won't magically disappear after the festive period.
In 2019/20, Northumbria Police recorded 448 child cruelty or neglect offences, up from 189 in 2014/15, and there were 95 similar offences recorded in the first three months of this year.
One of the most important messages we can ever share is that it's alright to ask for help if you need it. If you're able to help us, we would gratefully receive any support you can offer.
Every £4 donated to Childline helps one of our counsellors pick up a phone, or answer an email or online message from a young person who is struggling, and as we head into the festive period, we know we're going to be hearing from thousands of young people.
Every donation helps ensure children have someone to hear their troubles in their darkest hour, but just as important is letting your children know that Childline is here for them whenever they need us.