EMMA LEWELL-BUCK: People's dedication isn't matched by the Government
Millions of people excluded from Government financial support schemes waited anxiously this week for the Chancellor's economic update.
Thursday, 14th January 2021, 12:00 am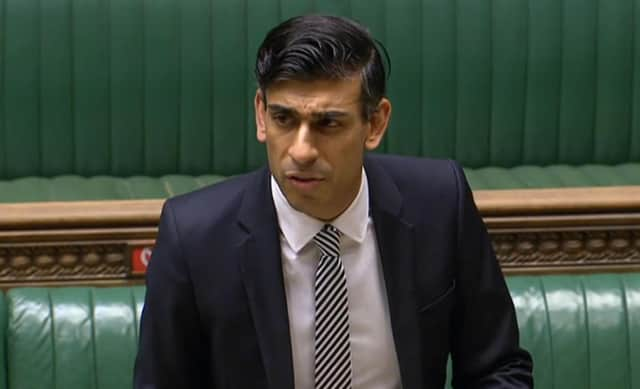 Chancellor of the Exchequer Rishi Sunak giving a statement on the economy in the House of Commons.
Sadly, he again refused to offer any support to the self-employed, the freelancers, the directors of small limited companies and many more.
Taxi drivers are part of the three million excluded, they have been given no support from Government schemes, yet their business has been severely affected. As people rightly are not travelling as much, with the night time economy closed and more people turning to supermarket home deliveries, they have been hit very hard by this pandemic.
When I wrote to the Government seeking a support package for our local taxi drivers, I was dismayed that the Minister responded saying that the taxi drivers could contact the Council and ask to do School runs. Yet he knows full well this is not a viable option or solution.
In Parliament the cross-party group 'Gaps in Support' that I am a member of, and the Treasury Select Committee have made workable and affordable recommendations to the Chancellor, outlining how the Government can implement schemes to help the excluded. The Chancellor has consistently ignored us all.
I also raise this issue regularly with our council to see if there is anything they can do to help our drivers to stay afloat. I welcome that they have refunded them 50% of their annual licence but I will continue to press for more support.
These jobs and professions are on the line. People who have been there for us throughout this pandemic, offering free transport for the vulnerable and elderly to get their shopping in and delivering food parcels.
Just recently I was contacted by the Manager of Richmond Taxis in South Shields, who advised me that they now offering elderly residents over 70, who book their outbound vaccination journey with them, a journey back home free of charge.
So many times, in this pandemic local businesses and individuals whose own livelihoods hang in the balance have done all they can to help and support others. It is such a shame
that their dedication to our communities isn't matched by the Government.