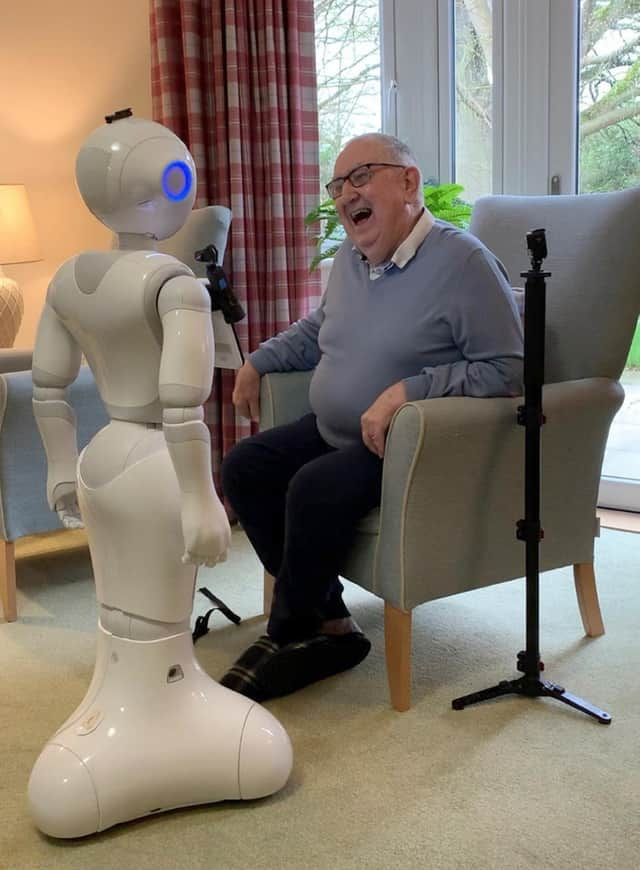 Robots could be introduced to help care for the elderly after a study showed they can improve mental health and have the potential to reduce loneliness in older people.
Call me a vindictive old fool, but I rather hoped to be spending my final years making life a living hell for my two sons.
Confident I would have accumulated enough ailments and bodily dysfunctions to make normal human activity impossible without help, my two boys would feel duty-bound to tend to my every need.
As such, I would be able to ensure pay back .
After years of nappy changes, nose wipes and saliva mops in the dead of night - during, I ought to add, what should have been my 'peak years' - it was only fair that the compliment should be returned.
Wheeling me around parks as I direct them from one public convenience to another, ideally in pouring rain, would be a fitting, erm, revenge.
Now it looks like that pleasure is to be denied, by care home robots.
According to reports this week, robots are to be deployed in UK care homes to help the aged.
Such news is all the more galling given that in my teenage years, Tomorrow's World (remember that TV show, old folks?) regularly insisted that by the time I was 25, domestic, mass-produced rob ots would be doing all the graft.
Multi-limbed mechanical cybermen ought to have been cleaning my flat as I went Sinclair C5 racing with my mates (all of us dressed in nylon jumpsuits, in prime colours, with bleached hair and phasers set to stun, and maybe some glitter our cheeks).
Despite the promises, for decades this robot dream remained unfulfilled. The only robots in our lives have been the ones building cars. Outside of that, in recent years, th e nearest we've had are unmanned supermarket checkout machines.
And with those checkout machines, it feels more like we're the ones doing the work, scanning every item before lugging our bags to the car . They just beep and then moan if there's an "unexpected item in the bagging area." Hardly a robotic utopia.
Now care home robots! Thirty years too late.
Damn you William Woollard.