SHAPING UP: Adjust your goals during Lockdown 2
When we first went into Lockdown back in March, lots of people committed to improving their health and fitness.
Tuesday, 24th November 2020, 12:00 am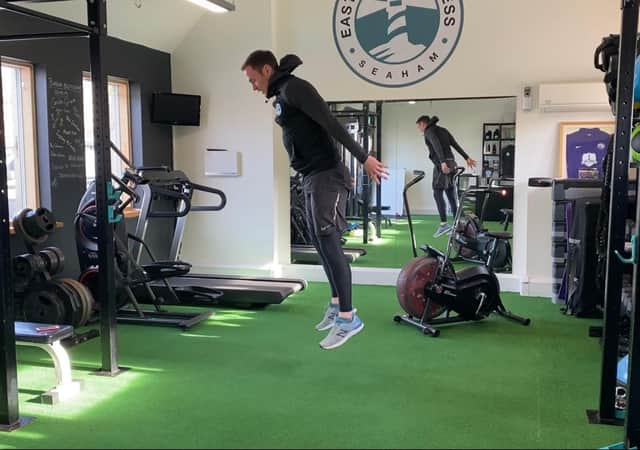 Leap into action, like Graham, during Lockdown 2.
They promised themselves they would improve their eating habits and spend more time exercising. But, after only a few weeks most people had fallen off the wagon. And, I'm starting to see the same thing happen again during Lockdown 2.0!
I think one of the main reasons so many people are giving up on their fitness goals is that they're putting too much pressure on themselves to be perfect. Maybe they're setting the goals too high and expecting too much from themselves.
There's no doubt about it, this global pandemic has been a very stressful time, we've all had to adapt our lives in some way. Whether it's a change in your working environment, a change in your health or having less contact with friends and family, we've had a lot of challenges thrown our way!
On top of those challenges, if you're putting yourself under more pressure to achieve unrealistic goals then no wonder you're struggling to stay motivated.
Don't get me wrong, aiming high is good, but setting yourself unrealistic targets can be counterproductive. If you continuously fail to meet your targets you'll see it as a failure and you're more likely to give up completely.
So, the best thing to do is re-evaluate your goals and your expectations. Acknowledge the fact that we're going through a challenging time and you must adjust your goals to make them more realistic and achievable.
Instead of trying to exercise every day, just workout 2-3 times a week at a higher intensity. That way it takes up less time.
Instead of trying to eat healthily all of the time, follow the 80/20 rule. Allow yourself to have a treat every now and again.
Instead of trying to lose a stone in one month, why not just aim for 1 lb a week, or even to just maintain your weight until the gyms are back open.
Re-evaluating your goals isn't a licence to give up completely though! It's a tactic you can use to stay focused on your health and fitness without putting too much pressure on yourself.
The most important thing right now is to stay active because it's vitally important for your physical and mental wellbeing. Any type of movement, at any time of day, in any place, is fantastic for our overall wellbeing and makes us feel good immediately. Just enjoy your exercise and don't put too much pressure on yourself.
CALORIES PER PORTION: 498
1 large tortilla (gluten free if required) 30g tasty cheese, grated
30g cherry tomatoes, sliced
Preheat oven to 190°C/375°F/Gas 5. Line a small baking tray with baking paper.
Lay bacon on the tray and cook for 10-15 minutes or until nice and crispy.
Whisk the egg, milk, salt & pepper together in a small bowl.
Bring a medium-sized fry pan to medium-high heat. Spray with a little olive oil spray. Pour egg mix in, stirring gently and constantly, until just under done.
Transfer eggs on to the tortilla.
Next, add cooked bacon, cheese, tomatoes, avocado and sriracha.
Roll the burrito up very tightly, making sure the ends are enclosed.
Bring a fry pan to medium-high heat and spray it lightly with olive oil spray.
Place burrito in the pan (seam side down) and cook for about 3 minutes on each side or until nice and toasted.
In this 'EMOM' (Every Minute On The Minute) workout you get 1 minute to complete all of the repetitions. Each round starts on the minute, every minute. So, the quicker you complete the repetitions the more rest you get before the next set.
Make sure you perform every repetition with good form. For a demo video go to the East Coast Fitness Facebook Page.
Minute 1: 12 SQUATS, 12 PRESS UPS, 3 BURPEES
Minute 2: 13 SQUATS, 13 PRESS UPS, 3 BURPEES
Minute 3: 14 SQUATS, 14 PRESS UPS, 3 BURPEES
Minute 4: 15 SQUATS, 15 PRESS UPS, 3 BURPEES
Minute 5: 16 SQUATS, 16 PRESS UPS, 3 BURPEES
Minute 6: 17 SQUATS, 17 PRESS UPS, 3 BURPEES
Minute 7: 18 SQUATS, 18 PRESS UPS, 3 BURPEES
Minute 8: 19 SQUATS, 19 PRESS UPS, 3 BURPEES
Minute 9: 20 SQUATS, 20 PRESS UPS, 3 BURPEES
Minute 10: 21 SQUATS, 21 PRESS UPS, 3 BURPEES