SHAPING UP: Exercises to lift your mood
The coronavirus pandemic is having an impact on everyone's daily lives and the longer this situation goes on the more people are suffering with mental health issues.
Tuesday, 12th January 2021, 12:00 am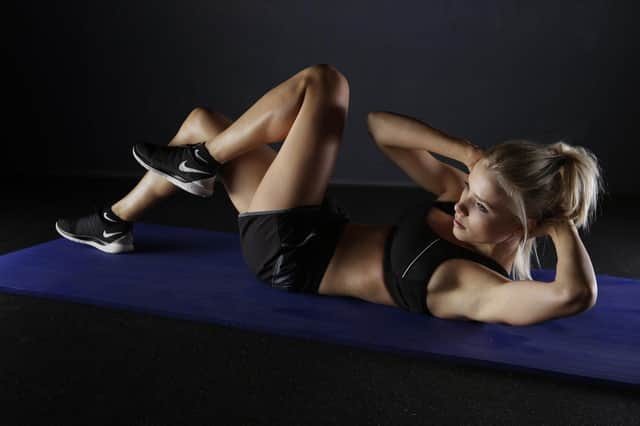 Exercise is good for the mind and body.
Lots of people are feeling bored and lonely because we can't socialise like we used to. Some people feel worried and anxious or concerned about their health. They are all common reactions to the difficult situation we face.
Everyone reacts differently to events and changes in the way we think and feel vary between different people. But, it's important that we all invest time in taking care of our mind as well as our body.
There are many ways to look after your mental wellbeing, but exercise is one of the most effective.
It's a powerful depression fighter for several reasons. Most importantly, it releases endorphins, powerful chemicals in your brain that boosts your mood and make you feel good. It can also help you sleep better and boost your overall mood.
That's why regular exercise can have a big impact on our mental state.
And, you don't have to be a fitness fanatic to reap the benefits. You don't have to go to the gym for hours or run for miles, research indicates that modest amounts of exercise can make a difference!
Here's my tips for moving your body and getting those endorphins flowing…
Couch to 5K is a running plan for beginners. It was developed to help people to get off the couch and start running. The plan involves 3 runs a week, with a day of rest in between, and a different schedule for each of the 9 weeks. Thousands of people have completed this programme and gained lots of motivation from it. It's also free to join. Bonus! Just go to the app store and download the app on your phone to get started.
WalkingHave a look online and find some local walks, within the government guidelines of course. You don't have to go far to discover some beautiful places. Don't let the cold weather put you off; this is one of the most beautiful times of year for scenery. Get wrapped up and embrace the winter weather and the crisp fresh air.
If exercise outdoors isn't your thing then you can always workout in the comfort of your own home.
Since the first lockdown back in March 2020, East Coast Fitness have been running an online boot camp to help our members through these challenging times. We offer 11 live classes per week plus hundreds more pre-recorded workouts. It allows our members to continue with their workout routine and still feel part of a community, which is really important for good mental health.
We are welcoming new members during lockdown 3.0 so if you'd like to join us from the comfort of your own home then just contact me on the details at the bottom of the page.
On top of the workouts you also get help with nutrition (if you would like it) and other tools to help you improve your overall health. Here's what some of our members have said:
"The online boot camp sessions have actually given us a new focus and helped us realise just how much regular exercise can improve all aspects of your life." – Sara White
"You can feel a big impact on your mood immediately." Annmarie Hoey
"Mentally and physically it's been a godsend." Jill Cull
Berry CrumbleSERVES: 1TOTAL TIME: 1 hourCALORIES PER PORTION: 240
100g frozen mixed berries 1/2 tbsp lemon juice
25g old fashioned rolled oats 1/2 tbsp coconut sugar
1/2 tbsp butter, cut into 1cm cubes
Start by preheating the oven to 180c/350f/Gas 4.
Mix the berries and lemon together in a small bowl and pour into a ramekin.
In a separate mixing bowl, make the crumble by combining all ingredients. You can use your hands to pinch the butter and mush it into the oats, until combined.
Pour the crumble on top of the berry mixture.
Cook for 40 minutes or until a skewer comes out hot.
10-Minute Home HIIT Workout
It doesn't take long to raise you heart rate and challenge your body. When you do that your brain releases endorphins (hormones that make you feel good). So, have a go at this ten-minute HIIT workout, it could clear your head, give you more focus and lift your mood.
10 seconds SQUAT JUMPS10 seconds PRESS UPS10 seconds SIT UPS20 seconds SQUAT JUMPS20 seconds PRESS UPS20 seconds SIT UPS30 seconds SQUAT JUMPS30 seconds PRESS UPS30 seconds SIT UPS30 seconds restX3