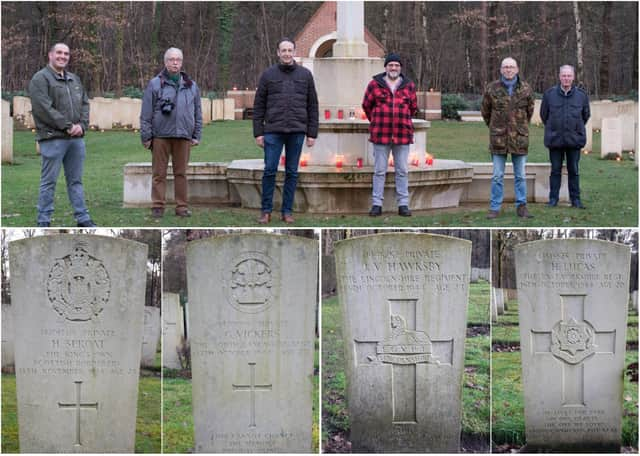 Project launched to commemorate a number of North East soldiers buried in a foreign field where a 'forgotten battle' of the Second World War was fought.
Six residents of the village of Overloon in the Netherlands have started a working group to try to put faces and stories to the names of 281 Allied troops buried in a war cemetery.
The Battle of Overloon in September and October 1944 claimed the lives of 2,500 Allied soldiers during the liberation of Europe from Nazi occupation.
Among the 281 soldiers buried in Overloon Commonwealth War Grave Commission cemetery the enthusiasts are seeking to honour are two from Hartlepool, one from Sunderland and one from Jarrow.
Members of the Overloon War Cemetery Working Group.
Oscar Huisman, 51, and Leo Janssen, 66, from the project believe remembering the men once a year is not enough.
Oscar said: "Our goals are simple, first a photograph, second the story behind it.
"Third, the adoption of the graves."
The four local soldiers buried in the cemetery are: Private John Victor Hawksby, born 1921, of Sydenham Road, West Hartlepool. John (service number 1445252) served with the Lincolnshire Regiment, 2nd Battalion, and was killed in Overloon on October 14, 1944.
The graves of Private John Hawksby and Private Harold Lucas from Hartlepool in Overloon war cemetery in the Netherlands.
Private Harold Lucas (14518628), born 1924, served with the East Yorkshire Regiment, 2nd Battalion and was killed in Overloon on October 16, 1944. His parents lived in Seaton Lane, West Hartlepool.
Private Henry Sproat, born 1921, (14201340), from Grangetown, Sunderland, was killed in the south east of the Netherlands on November 14, 1944. He served with King's Own Scottish Borderers, 1st Battalion.
Private George Vickers, born 1921, (4470006) from Primrose, Jarrow, served with South Lancashire Regiment, 1st Battalion. He was killed in Overloon on October 12, 1944.
Leo said the soldiers buried in Overloon Cemetery come from more than 20 temporary cemeteries.
The graves of Henry Sproat from Sunderland and George Vickers of Jarrow.
"Some bodies were even reburied several times," he said. "In the process lots of information disappeared or got lost."
He added: "The Battle of Overloon had more casualties than Operation Market Garden but nobody speaks about it.
"It is The Forgotten Battle."
Oscar added: "Some of the historical facts are no longer recalled by people in Overloon."
Candles on top of the 281 graves in Overloon war cemetery.
"We must keep the history alive."
Support your Gazette and become a subscriber today. Enjoy unlimited access to local news, the latest football stories and new puzzles every day. With a digital subscription, you can see fewer ads, enjoy faster load times, and get access to exclusive newsletters and content. Click here to subscribe.