Call for firefighters to be prioritised for covid vaccines as roll-out continues
Firefighters and police should be prioritised for coronavirus vaccines, according to one of the North East's top policing bosses.
Tuesday, 16th February 2021, 6:06 pm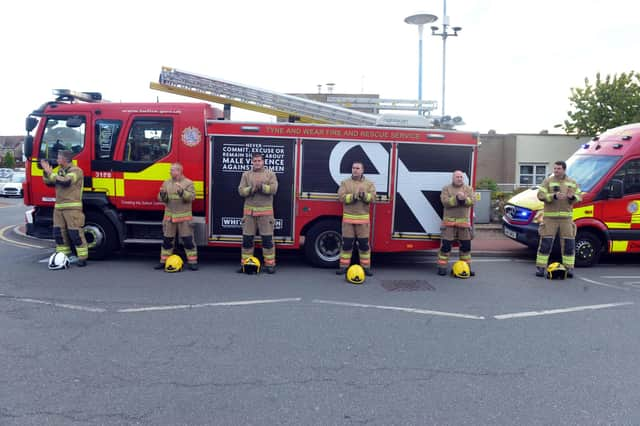 Tyne and Wear Fire and Rescue firefighters taking part in the NHS Clap For Our Carers at Sunderland Royal Hospital earlier in the pandemic
The Government's roll-out is currently focusing on the over 50, health and social care workers and those with serious underlying health conditions.
But demands are growing for all workers on the pandemic's front line to be offered the treatment as soon as possible, both to slow transmission and protect the wider public.
"We need to look at which key workers are putting themselves out there in the line of danger for this virus, whose families are coming into contact with it," said Kim McGuinness, the Police and Crime Commissioner (PCC) for Northumbria.
"We need to consider the service continuity and the fact that community safety isn't just about protecting against this virus.
"Firefighters are putting themselves on the front line, either just in the course of doing their job, or by taking part in the vaccination programme or the test track and trace programme [and] are absolutely frontline members of the community dealing with this virus.
"I think they should be considered among other key workers for priority vaccinations and I'm disappointed that hasn't happened yet."
McGuinness was speaking at a meeting of the Tyne and Wear Fire and Rescue Authority, which was held by videolink and broadcast via YouTube.
The first phase of the government's vaccine roll out plan covers everyone aged over 50, their carers, health and social care workers and anyone else with an underlying health condition aged over 16.
According to official plans, this covers 'around 99 per cent of preventable mortality from COVID-19'.
The PCC has previously backed calls for police officers to be moved to the front of the queue for vaccinations and has now backed similar calls for Tyne and Wear's firefighters, some of whom are also involved in administering jabs.
Assistant chief fire officer Peter Heath said: "A key principle of all the staff that volunteering is that any of our staff who engage any activity will have parity of protection with anybody else, whether that be NHS or partners.
"So, for all the staff who are going to work in the vaccination centres, a requirement of anyone in there is that they become vaccinated."
Support your Echo and become a subscriber today. Enjoy unlimited access to local news, the latest on SAFC and new puzzles every day. With a digital subscription, you can see fewer ads, enjoy faster load times, and get access to exclusive newsletters and content. Click here to subscribe.