South Tyneside Council elections 2021: who are the candidates standing in my area?
In case you missed it, elections are taking place for South Tyneside Council on May 6, with seats up for grabs in each of the 18 wards in the borough.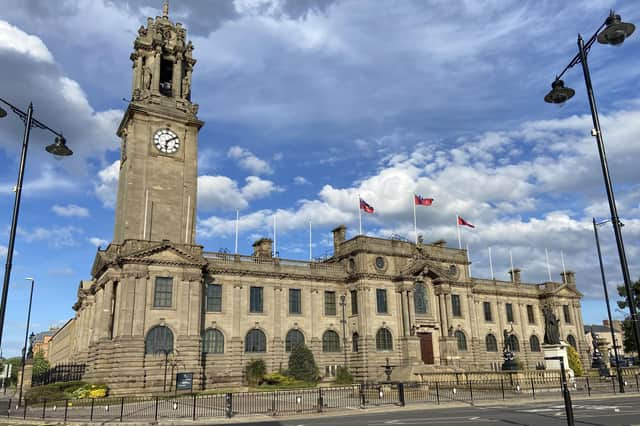 More than 80 candidates have put their names forward in the latest round of local government elections, with voters set to cast their ballots on Thursday, May 6.
Local elections were due to take place in 2020 but were postponed due to the coronavirus pandemic.
There will also be double elections in two wards in South Tyneside in 2021.
These are to fill extra vacancies in the Horsley Hill and Monkton wards following the departure of long-serving Labour councillors Iain Malcolm and Alan Kerr respectively.
The council's ruling Labour group is standing against contenders from the Conservative Party, Green Party Reform UK, Social Democratic Party and several independents.
A number of familiar faces, including former councillors who lost their seats or stepped down at the 2019 local elections, are also standing again.
Polling stations are open from 7am to 10pm on May 6 for those not voting by post.
Voters will also have the chance to have their say on who should be the Northumbria Police and Crime Commissioner.
Before going to your polling station, it is worth checking your polling card as the polling station may be in a different location than usual.
This is the list of candidates in full
Fay CUNNINGHAM (Labour Party)
Ali HAYDER (Conservative Party)
Sue STONEHOUSE (Green Party)
John Michael CHILTON (Green Party)
Margaret Mary PEACOCK (Labour Party)
Shaun William SADLER (Independent)
Bill SMITH (Conservative Party)
Patricia May OLIVER (Independent)
Bethany Dionne TELFORD (Green Party)
Anne Josephine WALSH (Labour Party)
Jack Oliver WHITE (Conservative Party)
Joanne BELL (Labour Party)
Peter COLLINS (Green Party)
Simon Kevin OLIVER (Independent)
Anthony Maurice SPINKS (Conservative Party)
Jane CARTER (Labour Party)
Daniel McLean FISHER (Reform UK)
Ian FORSTER (Conservative Party)
David HERBERT (Green Party)
Ian James CAMPBELL (Independent)
Alex DONALDSON Alex (Labour Party)
George Robert William ELSOM (Independent)
John Gordon RILEY (Green Party)
Gary THOBURN (Conservative Party)
John Bede CULLEN (Independent)
Paul D`AMBROSIE (Independent)
Audrey Elizabeth FAY (Labour and Co-operative Party)
Kelly Louise HILL (Green Party)
Holly May WRIGHT (Conservative Party)
Sarah Elizabeth Ashton DRUMMOND (Green Party)
Chloe Joanne GRANT (Conservative Party)
Lawrence NOLAN (Independent)
Sian Sarah FORD (Green Party)
Brian GOODMAN (Independent)
Liz MCHUGH (Labour Party)
Margaret Mary ROBSON (Conservative Party)
Mark Anthony CONWAY (Social Democratic Party)
Moyra DAY(Conservative Party)
John Gerard MCCABE (Labour Party)
Colin Robert TOSH (Green Party)
HORSLEY HILL (two candidates to be elected)
Ruth Rachael BERKLEY (Labour Party)
Angie FISHER (Independent)
Andrew James GUY (Green Party)
David MORRIS (Independent)
Tia Jade McMurray SINCLAIR (Conservative Party)
Ethan Jay THOBURN (Conservative Party)
Oliver Raymond Raife WALLHEAD (Independent)
Mark WALSH (Labour Party)
MONKTON (two candidates to be elected)
Rhiannon Sian CURTIS (Green Party)
Peter HAMILTON (Independent)
Joan Margaret KEEGAN (Labour Party)
Margaret Mary MELING (Labour Party)
Graeme SLATOR (Independent)
Chris SMITH (Conservative Party)
Margaret Theresa SNOWLING (Conservative Party)
Marian Elizabeth STEAD (Reform UK)
Kevin ALDERSON (Green Party)
Walter Featherston ARMSTRONG (Conservative Party)
David KENNEDY (Independent)
Ken STEPHENSON (Labour Party)
Edward MALCOLM (Labour Party)
Sarah Jean MCKEOWN (Green Party)
Christopher James SANDERSON (Conservative Party Candidate)
Kenneth George WOOD (Independent)
Mark Ashley AUTON (Conservative Party)
Peter James BRISTOW (Green Party)
Gladys HOBSON (Labour and Co-operative Party)
Ann Margaret BEST (Labour Party)
Paul Daniel BRENEN (Independent)
Anna-Louise LAMBIE (Green Party)
Heidi WILDHIRT (Conservative Party)
Denis BURNS (Independent)
Tracey Allison DIXON (Labour Party)
Trevor Reid SEWELL (Green Party)
Stan WILDHIRT (Conservative Party)
Julie Angela ANGELL (Independent)
Rachael MILNE (Green Party)
Doreen PURVIS (Labour Party)
Blake ROBSON (Independent)
Dawn WILDHIRT (Conservative Party)