A wet, windy evening on Wednesday, March 11 after a bright start
The rain will become heavier as the day wears on, with some big gusts of wind to contend with and a maximum temperature of 9C.
Tuesday, 10th March 2020, 7:53 pm
Updated
Tuesday, 10th March 2020, 7:55 pm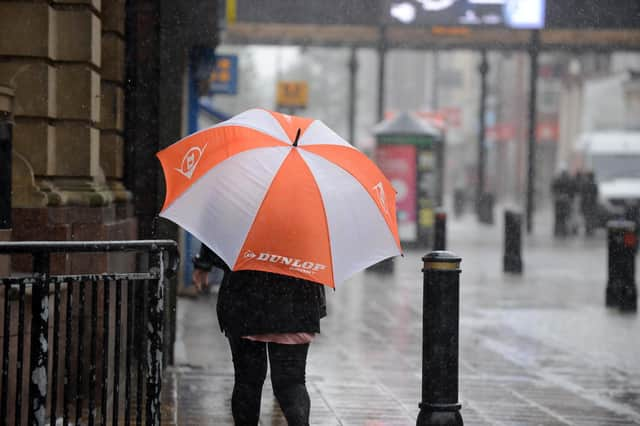 Shoppers deal with heavy rain and strong winds on King Street, South Shields. Picture by Stu Norton.
What will the weather be like in South Shields this morning?
It will be bright and breezy from dawn until noon. We may see a little light rain late morning. The temperature will peak at 9C and there will be gusts of wind over 40mph.
What about this afternoon?
Sunny intervals with some rain expected at around tea time, temperatures still up to 9C and remaining windy.
What will the weather be like this evening and tonight in South Shields?
The cloud will become thicker and the rain will be heavy for much of the evening. Rain should stop at around midnight when the temperature will be down to 4C. But it will feel colder.
What will the weather be like tomorrow?
Rain is not expected on Thursday when it will be brighter too. But a windy afternoon is expected with gusts of up to 42mph.
What is the long-term forecast for the North East?
The Met Office outlook for Thursday to Saturday says: "Thursday, windy with sunshine and showers, wintry over hills. Feeling rather cold. Less windy on Friday, with showers becoming more isolated. Rain clearing to sunshine and showers on Saturday."