Best men's waterproof hiking jacket UK 2023: dry walking jackets from Rab, Columbia, Berghaus, Arc'Teryx
A great waterproof jacket is crucial to help to keep us dry when we venture outdoors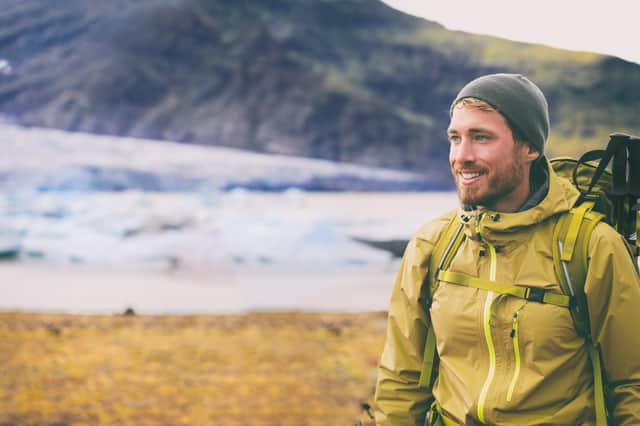 This article contains affiliate links. We may earn a small commission on items purchased through this article, but that does not affect our editorial judgement.
A good waterproof jacket is more important than it sounds. If you're hiking, walking or generally using an over jacket for day-to-day work in the UK, it's likely you'll need it to protect you against the rain, and it's worth investing in a good one to make sure you've got proper protection.
What to look for in a waterproof
Firstly, look for the type of material and its weight – a lighter weight jacket will be more suitable for more strenuous energetic activities and also give you improved reach and stretch – if you're out on the mountains you're not going to want to be restricted in your movement. A heavier jacket perhaps will give you more warmth, but it'll be heavier, less breathable and harder to move around in.
What do waterproof ratings mean?
Waterproof ratings are in 'mm', and signify the maximum amount of water a garment can take before it no longer can keep back the flood.
This usually ranges from about 10,000 to 20/30,000mm, so more than good enough for most grey UK days. That being said, every jacket has its limits, so it pays to do you research if you're heading into the jungle, for example.
When it comes to fit, it's also worth mentioning adjustment options, so we recommend looking for jackets that have good hem cords and the ability to fit a helmet underneath – good hood adjustment options are a must.
We also really like the wired-hem hoods that stay up a lot easier in the wind and rain….there is nothing more annoying that having to keep pulling up your hood again every thirty seconds because it can't stay in place!
Does the jacket breath?
Breathability is a big factor if you need a jacket to wear whilst on the move. If you're laying up for mountain wear, for example, you'll want something that will wick away sweat and isn't going to trap body heat. Likewise, look for a decent waterproof rating (at least 5,000mm) as this refers to the maximum amount of water resistance in the fabric. 
Do the pockets zip shut? 
Many good waterproof jackets come with taped seams and zips, meaning what's in your pockets will stay dry, but it's a good idea to check as versions can differ. Finally, some jackets have vents to keep you cool when active – if you're going to be hiking or trekking with your purchase, these come in really handy if you're otherwise layered up.  
Our round-up of women's waterproof jackets is here.
Get kitted out for all of your hiking adventures
Here is our list of the best waterproof hiking jackets on the market