Hebburn Town's Wembley dream on hold after FA Vase meeting with Corinthian FC is postponed
Hebburn Town's efforts to reach Wembley in the FA Vase Final are on hold after the Football Association postponed their semi-final tie at Corinthian FC.
Monday, 16th March 2020, 7:44 pm
Updated
Monday, 16th March 2020, 8:42 pm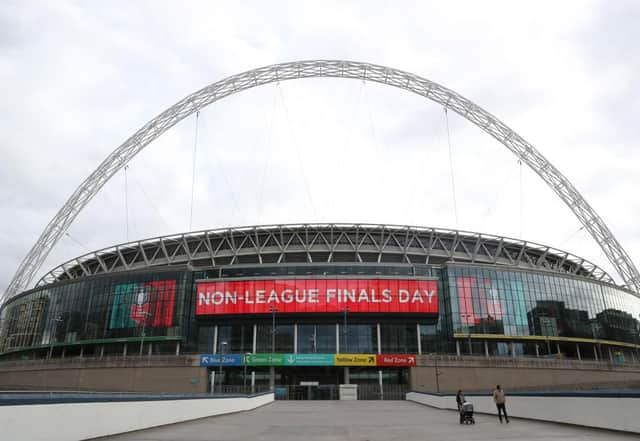 The FA Vase final will be played at Wembley Stadium.
The Hornets and fellow Northern League club Consett have embarked on history-making runs to the last four of the competition and were both preparing for the first leg of their semi-final ties this weekend.
Kevin Bolam's side were set to travel to Kent on Saturday to face Southern Counties East League club Corinthian and Consett were ready for a long trip to Gloucestershire to face Western League side Bitton.
Both North East clubs have already sold over 1,000 tickets between them for the second leg of their ties – which were scheduled for Saturday 28 March.
But, following the Government's latest update on the Coronavirus, all plans have been put on hold after the Football Association informed clubs that they have decided to postpone all matches across their national competitions with the Covid-19 outbreak continuing to escalate.
The governing body went on to reassure clubs that they are "committed to trying to complete all competition fixtures".
An FA communication told clubs: "In light of the most recent update from the Government on the coronavirus, we regret to inform you that the FA has decided to postpone all matches across all FA competitions, including those outside of the Professional Game, until 3 April.
"We are committed to trying to complete all Competition fixtures and will be liaising with the relevant parties to establish appropriate options to do so.
"A further update will follow in due course."
Hebburn manager Kevin Bolam "It's frustrating, it's annoying, but it's understandable to be honest.
"We are all flat as pancakes at the moment, we are so close to Wembley – and we know that the other three clubs in the Vase will be thinking the same thing.
"We just have to try and get through it – but we are praying that the fixtures in the competition will get sorted at some point."