New Hebburn Town signing says new club should look to South Shields for promotion inspiration
New signing Liam Connell has insisted that Hebburn Town can follow his former club South Shields up the non-league pyramid.
Sunday, 22nd March 2020, 5:56 pm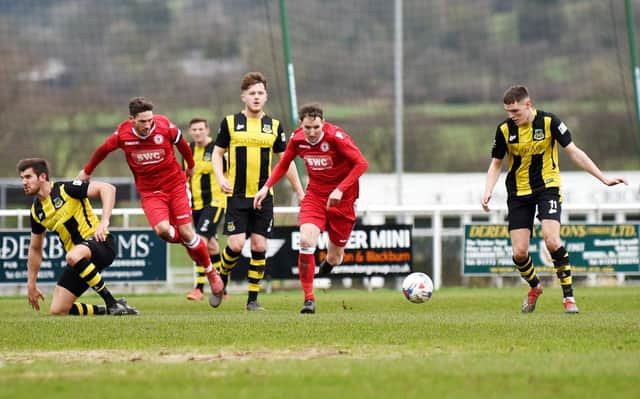 Hebburn Town in action.
The experienced goalkeeper joined the Hornets on Friday as he brought an end to a successful spell with their South Tyneside neighbours.
The 34-year-old lifted five trophies during his four-year stay at Mariners Park including the Northern League title, the FA Vase and the Northern Premier League North Division title.
Connell remained a mainstay of the Mariners side that narrowly missed out on a fourth consecutive promotion last season after they were beaten by Warrington Town in the Premier Division play-off final.
But with his appearances during the current season limited by the arrival of on-loan Blackpool goalkeeper Myles Boney.
With the season currently on hold as the Covid-19 epidemic continues to dominate the headlines, the Hornets are well-placed to claim one of the three promotion places on offer in Northern League Division One and they are within 180 minutes of a place at Wembley after they reached the semi-final of the FA Vase.
He told The Gazette: "With the players that Hebburn have at the moment, there is no doubt in my mind that they can go up to where South Shields are now.
"There is a lot of quality in the squad and a lot of players that have played in the level above and even higher than that.
"It's an exciting time to join the club and there is no doubt that they can get into Dunston's league because of what is in the squad.
"There's no reason why Hebburn can't do what South Shields have done and get themselves up to the next level and above that."
Connell also explained the reasons behind his return to the Northern League and revealed that his move across South Tyneside was completed two years after he initially held talks with former Hornets manager Scott Oliver.
"It's personal circumstances that have dictated that I had to end my loan spell at Darlington so I could be more local.
"I have to thank Alun Armstrong (Darlington manager) for the role he has played in all of this – and Kevin Bolam has been nothing but supportive to me."