Manchester City points deduction: How Newcastle United, Arsenal, Liverpool & Leeds could be impacted
Manchester City have been charged by the Premier League with numerous alleged breaches of financial rules – but how could it impact Newcastle United and other top flight sides?
Manchester City may now face serious punishment after being charged with alleged breaches from the 2009-10 season to the 2017-18 campaign. Fines, transfer embargoes, points deductions and even relegation have already been touted as potential punishments for City, some of which would have serious repercussions for the Premier League and its clubs.
Why have Manchester City been charged by the Premier League?
Manchester City have been charged with over 100 breaches of Premier League financial rules following an investigation spanning almost five years. The club has now been referred to an independent commission who will be able to impose a punishment in due course.
The Premier League published a statement claimed City had breached financial rules and had failed to provide "accurate financial information that gives a true and fair view of the club's financial position."
Further alleged breaches related to rules regarding disclosing full details of manager remuneration during Roberton Mancini's tenure from 2009-10 to 2012-13 and player remuneration from 2010-11 to 2015-16.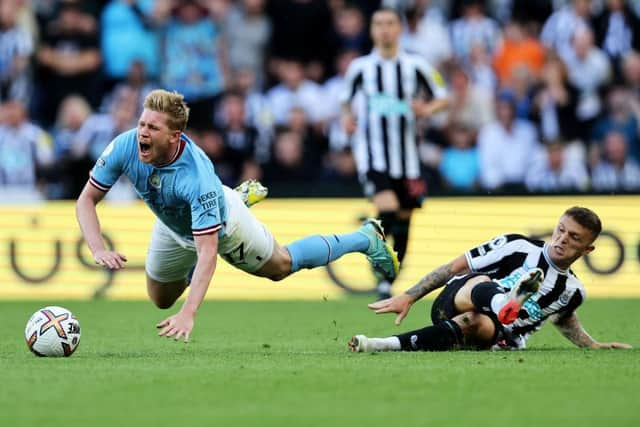 Manchester City were charged with breaching Financial Fair Play regulations from 2012 to 2016 but a two-year ban from UEFA competitions was overturned following a Court of Arbitration for Sport appeal.
How Manchester City have responded to the charges
Manchester City were not informed of the Premier League's statement prior to its release but quickly published a statement in response.
It read: "The Club welcomes the review of this matter by an independent Commission, to impartially consider the comprehensive body of irrefutable evidence that exists in support of its position.
"As such we look forward to this matter being put to rest once and for all.
"Manchester City FC is surprised by the issuing of these alleged breaches of the Premier League Rules, particularly given the extensive engagement and vast amount of detailed materials that the EPL has been provided with."
How this may impact Newcastle United and Premier League rivals?
The charges against Manchester City are unprecedented in the Premier League era, so we will be in uncharted territory if the club were found guilty and a punishment implemented.
Pep Guardiola's side currently sit five points ahead of Newcastle in the table so any potential points deduction this season would undoubtedly boost The Magpies' Champions League hopes along with Manchester United and Tottenham Hotspur. It would also offer a lifeline to the likes of Chelsea and Liverpool further down the table while providing a major boost to Arsenal's title hopes.
Former Man City financial advisor Stefan Borson suggested the club should face relegation given the extent of the charges. He tweeted: "Alarmist or not, the sheer extent of the PL charges are at a level that IF found proven, must lead to relegation."
This would hypothetically mean a reprieve for the side sitting 18th in the table come the end of the season, which would come as good news for struggling sides such as Everton, Leeds United and West Ham United.
The complex nature of the charges mean the case is unlikely to reach a full conclusion in time to impact the current season. But the long-term impact should City be found guilty could be huge.