New Newcastle United injury update on Bruno Guimaraes
Bruno Guimaraes could be facing weeks, not months, on the sidelines at Newcastle United.
However, the Daily Mail report that the results of a scan today on 25-year-old Guimaraes – who had tried to play on with his ankle strapped – are "positive".
"Bruno was very distressed," said United's head coach. "He was in a lot of pain. He twisted his ankle and felt he could run it off. In the end he needed to be withdrawn.
"He was (in distress), and he was after the game. He was worried about his ankle. It was a twist. He felt he could carry on until right at the end of the first half, when he signalled to come off. Never a good sign, from our perspective. We'll have to get it scanned and checked out, and we'll see what the damage is.
"We hope it's not long-term, but, at this moment in time, we don't know."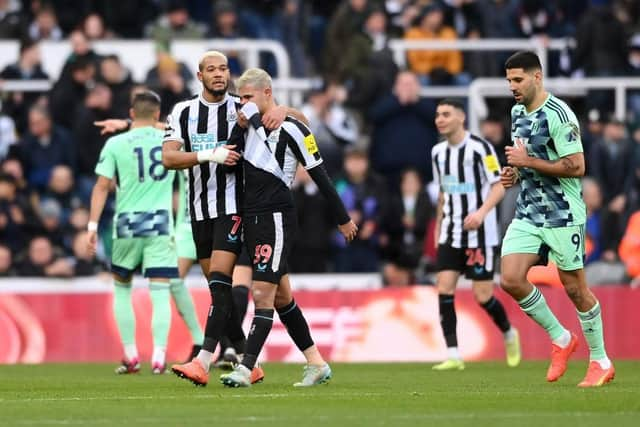 Asked if Guimaraes should have been taken off earlier, Howe said: "Yeah, probably, with hindsight.
"But the player wanted to stay on, and, as long as it's not a concussion, I always tend to go with the player, because the players know how difficult the Premier League is, and know their bodies better than I do.
"It's always a difficult one, right on half-time, to make a change. I like to try and do that in the calm of half-time, to make a proper decision. He played very well in the first half, despite the injury."
Howe is also without midfielder Jonjo Shelvey, who has a calf problem which will sidelined him for up to eight weeks.
Third-placed Newcastle take on Crystal Palace at Selhurst Park on Saturday. The fixture is followed by a two-legged Carabao Cup semi-final against Southampton.