Newcastle United make a decision on non-league hotshot Cedwyn Scott after trial spell
Hebburn Town striker Cedwyn Scott has expressed his desire to forge a career in full-time football after Newcastle United opted against offering him a deal.
Sunday, 29th November 2020, 1:23 pm - 2 min read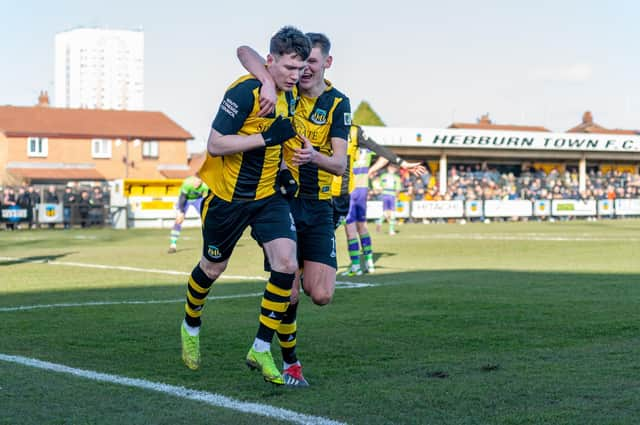 Cedwyn Scott
The former Berwick Rangers and Dunston UTS frontman has spent the last four weeks on trial with the Magpies after hitting a blistering run of form in the Northern League.
Scott trained alongside United's under-23s squad and played in Premier League 2 fixtures against Leeds United and Norwich City as well as a friendly against Huddersfield Town.
However, in a meeting held last week, the 21-year-old was informed that he would not be given a deal, despite making a "good impression" on the United coaches.
Scott could still be handed more opportunities to move into the professional game after the likes of Morecambe and Sunderland sent scouts to watch in him action with Northern League leaders Hebburn prior to his spell with Newcastle.
The striker reflected on his trial and revealed his determination to use it as a platform to earn himself a move up the football pyramid.
He explained: "It was always a win-win going into Newcastle and having that opportunity.
"I got to play with some very good players and that got my standards up at the same time.
"I went in there to impress so I knew that I had to raise my standards to meet what was around me in training and in matches.
"I feel a better player for the experience, and it gives me a good target to aim for.
"The feedback I got from the coaches was that I had made a good impression, that they liked me, but that I wouldn't be offered a deal because I am 22 next week.
"That would mean I would only have a year to break into the first-team and that's unrealistic.
"That is just football, it was a good, honest chat and I really appreciated that.
"I don't want to try and force things, but I now have even more motivation to try and make that step.
"I have always wanted to be full-time in football, the environment at Newcastle made me want to be even better and that's made me even hungrier."
One of Scott's team-mates over the last month earned himself a first-team call-up last week after impressing in the Magpies second string.
Attacking midfielder Elliot Anderson remained an unused substitute in Friday night's 2-0 win at Crystal Palace and Scott has tipped the 18-year-old to get more opportunities at a senior level "sooner rather than later".
He said: "He's a very good player and we worked well together during my trial.
"I would operate on the shoulder to move the defence around and it would give him space to get on the ball in dangerous positions.
"He is very good in tight spaces; he can beat a man easily and he retains the ball very well.
"I don't see why he can't step up to the first-team.
"There are no attributes that he is missing to make that step into the Premier League environment.
"He just needs to keep doing what he's doing, and that chance will come sooner rather than later."