Newcastle United striker Callum Wilson admits 'team-mate' could leave amid manager uncertainty
Newcastle United and England striker Callum Wilson has had his say on Harry Kane's future at Tottenham Hotspur.
Kane's contract at Spurs expires at the end of next season, by that time he will by just shy of 31-years-old. As one of world football's top strikers, the England captain wouldn't be short of suitors should he wish to leave the club he's spent his entire professional career at so far.
And with Tottenham's managerial situation unclear following Antonio Conte's departure, Wilson believes that the club's next appointment could be crucial in deciding his England team-mate's future.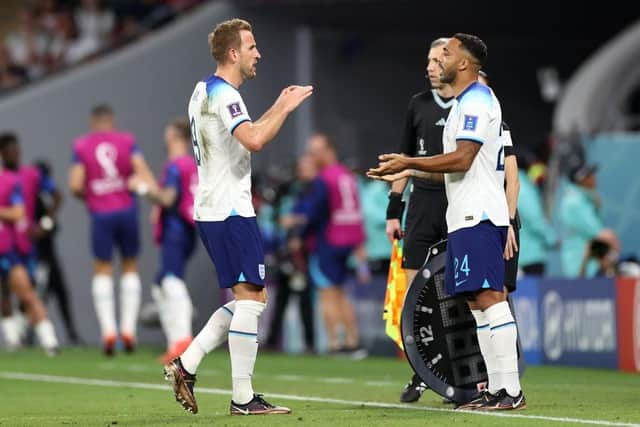 "Poch [Mauricio Pochettino] coming back could have a big impact on whether Harry Kane goes or stays," Wilson said on the Footballer's Football Podcast. "Whoever goes in next could determine that because his situation will be determined on who comes in the door.
"[A manager] might not want the job knowing [Kane] could potentially leave or if he's staying they might definitely want the job. It's tricky because you don't want your star player, all-time goalscorer leaving as you come in the door.
Wilson added: "He's only got a short time left on his contract. It's going to be close to [£100million] with the quality of player, it's just about length of contract, age to take into consideration."
Kane is Spurs' all-time leading goalscorer with 271 goals in 425 appearances in all competitions. He also recently moved two clear of Wayne Rooney as England's all-time top goalscorer during the international break with 55.
Wilson has backed Kane to break Newcastle legend Alan Shearer's 260 Premier League goal record. The 29-year-old currently has 204 top flight goals to date.
Despite all his personal accolades, Kane is still yet to win a major trophy during his career having been a runner-up in the Premier League, League Cup and Champions League with Spurs as well as the European Championships with England.
While Wilson feels Kane will stay at Spurs, he doesn't see him ending his career there.
"I think he'll stay and a new manager will come in, give him a boost again and once he beats Shearer's record in a few years time, then I think he'll go abroad," Wilson continued.
"He can choose where he wants to go. It was a great week for him becoming England's all-time record goalscorer."