Revealed! The shocking stats that should concern Steve Bruce as Newcastle United battle Fulham, West Brom, Brighton Burnley and Sheffield United for Premier League safety
Sleepwalking or simply just walking? Whatever way you describe it, the same outcome arises. Newcastle United are heading towards the Premier League relegation places.
Tuesday, 16th February 2021, 4:30 pm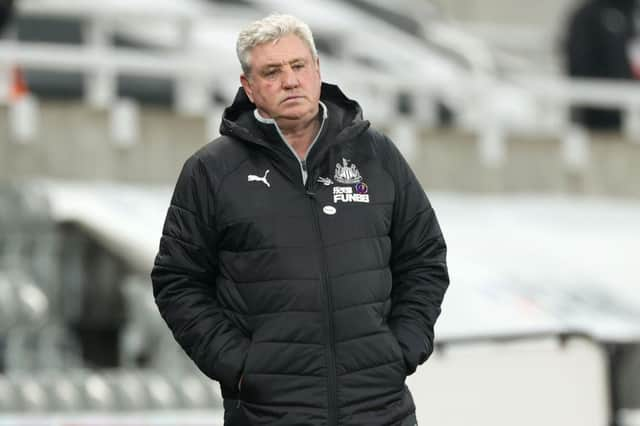 The shocking stats that should concern Steve Bruce as Newcastle United battle Fulham, West Brom, Brighton Burnley and Sheffield United for Premier League safety. (Photo by LEE SMITH/POOL/AFP via Getty Images)
And a look at the key statistics - compared to their relegation rivals – only fuels growing fears of a third season in the Championship during Mike Ashley's dismal 14-year tenure.
Fulham are showing clear signs of improvement. Newcastle, without top scorer Callum Wilson, is a terrifying thought. As if their attacking stats weren't bad enough…
Attacking areas – Josh Maja's arrival could be defining
Wilson, signed from Bournemouth last summer for £20million, had virtually paid back his price tag before his injury layoff – playing a direct part in 15 of United's 25 Premier League goals – 10 goals and five assists
On current viewing, Newcastle's goal tally is level with Brighton and six better than Fulham and West Brom, while Burnley and Sheffield United have scored 15 and 17, respectively.
But In terms of Fulham, the signing of striker Josh Maja could prove to be a defining piece of business given the Cottagers are 10th for big chances missed.
Going by the former Sunderland man's poaching finishes during the 2-0 win at Everton, he might just be the man to convert those 'golden opportunities'.
The Magpies are bottom of the big chances missed with 14 but that's probably because they don't create many either.
Indeed, Bruce's side have registered just 233 shots on goal, that's an average of around nine attempts per game, which is also bettered by Fulham with 271.
Sheffield United, Burnley and West Brom are behind that area, which perhaps explains why their goals tally so low.
The argument surrounding Brighton this season is they create chances but struggle to convert their chances – and the stats certainly back that up.
On big chances created and goal attempts, the Seagulls sit comfortably in the top half.
Possession stats in favour of Fulham and Brighton
This won't come as any surprise to United fans but we'll put it in black and white anyway.
High possession percentage has never been associated with Bruce's Newcastle. Indeed, the only surprise is there is a team below them.
Sam Allardyce's West Brom have averaged a division low of 37% possession per game, bettered narrowly by Newcastle by 1.5%.
Above the Magpies is Burnley with 39.4%, while Sheffield United have managed 41.9% so far.
A possession-based style of play tends to be associated with Brighton (8th) and Fulham (11th), who average around 51.9% and 49%.
In terms of total passes, that accumulates to a similar viewing.
The defensive side – look away West Brom
Only West Brom (55) in the bottom of six of the Premier League have conceded more goals than Newcastle (40), the joint-fourth lowest with Sheffield United.
Burnley have the eighth-best defensive record. Both Brighton and Fulham have conceded 30 and 31 goals, respectively.
Delving deeper into that, Karl Darlow has faced the second-most shots at a staggering 335 – albeit the majority of which were off target – with West Brom again bottom (353).
Taking those into account, Fulham's 255 shots against suggests they aren't as heavily reliant on their goalkeeper Alphonse Areola.
Incredibly, the Brighton defence do extremely well to restrict efforts on their goal – only Manchester City, Liverpool and Chelsea have a better record.
Worryingly, Fulham, the team in reach of Newcastle, are doing better in all of the key areas.
Indeed, it is worth remembering that the arrival of Graeme Jones has encouraged a more attacking style of play in recent, so those stats can improve.
But ultimately, they need to improve quickly or you could say the writing is on the wall for Bruce and Newcastle United.