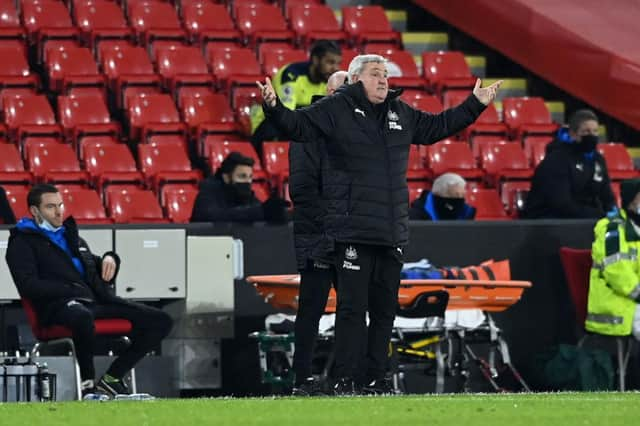 Steve Bruce. (Photo by Stu Forster/Getty Images)
The Magpies suffered a sobering 1-0 defeat to Sheffield United on Tuesday night – the Blades' first win of the Premier League season – and despite being a vocal advocate of Bruce in the past, the ex-fast bowler has been convinced by recent underwhelming displays that it is time for a change in the dugout.
Speaking on talkSPORT, the pundit said: "I've been the biggest defender of Steve Bruce, and every time I come on this programme I get pelters, but in the last eight or nine weeks I've seen a marked difference, not only in the level of performance, but it seems in the attitude too.
"It seems as if the whole club is typified by Newcastle's performances in the last eight to ten games – it's very lacklustre, very negative, no communication, nobody wants to dig each other out. It's as if they're accepting of what's happening.
"I think there needs to be changes."
Harmison also hit out at other pundits who regularly defend Bruce, suggesting that they need to pay closer attention to Newcastle's performances to truly understand how bad the situation is on Tyneside.
He said: "I haven't got time to go into what the supporters want, because not only do they want Steve Bruce out, they also want Mike Ashley out as well.
"I get annoyed when pundits come on and say Steve Bruce is doing a good job.
"He did, probably up until Covid, up until eight to ten games ago. Gabby Agbonlahor, Danny Murphy – let me show you the last full 90 minutes of Newcastle's performances in the last 10 games and you educate me on how this is 'doing a good job'.
"Newcastle have been dire. They've been dire for a while now, but it's starting to get worse and worse."The former Durham star went on to suggest that indecision from Mike Ashley over Bruce's future could prove costly for both the club and the owner himself.
"The last two times Mike Ashley's been in this position, he waited far too long to react", he said.
"He threw Alan Shearer under the bus with eight games to go. Local hero, novice manager, and he couldn't get them out of trouble.
"He threw Rafa Benitez under the bus when he made the decision – Rafa Benitez had just come from Real Madrid, he was a superstar manager.
"If he's not careful, not spending the money to release a manager from his contract could cost him 20 times more, not only if Newcastle get relegated and lose the money from the Premier League, but he could lose the money from an actual sale because nobody will by Newcastle in the Championship."Tuesday's result leaves Newcastle 15th in the Premier League table, seven points clear of the relegation zone.
The Magpies have played one game more than 17th-placed Fulham, however, and haven't won a game in any competition since they beat West Brom in mid-December.