The scenes of Newcastle United fans at Trafalgar Square and the dreams of a whole generation
Newcastle United fans took over Trafalgar Square on Saturday night and for the first time in almost a quarter of a century, they were there to party.
Published 26th Feb 2023, 08:03 BST

- 2 min read
Updated 26th Feb 2023, 08:03 BST
It's the sound of the first can opening before Scotch Corner that reminded you this would be a weekend like no other. Turning every street corner in London, only to see yet another black-and-white shirt or hear the faint noise of another chant starting up, was the signal that Newcastle United had come to town.
But this time, they had come to stay. Memories of 1976, 1998 and 1999 stirred up a mix of emotions in the thousands of supporters who made the pilgrimage to London Town, but 2023 was their time.
Those games in the 90's felt like the end of an era, one that saw Newcastle go so close and fall just short of greatness. But this just feels different.
The volume and flags were raised at Trafalgar Square just as quick as the drink went down on Saturday night. A joyful cacophony of everything it means to be a Newcastle United supporter.
Family members, friends and strangers alike embraced around the fountains, dodging the empty beer cans and wine bottles and various pyrotechnics. It was a sense that something new was on the horizon.
Although everyone was here for the game, ultimately Sunday's result didn't matter on Saturday night. People were simply there to acknowledge and celebrate what a crazy 16 months it has been since the takeover of the club, and what a crazy few years this club has in-store.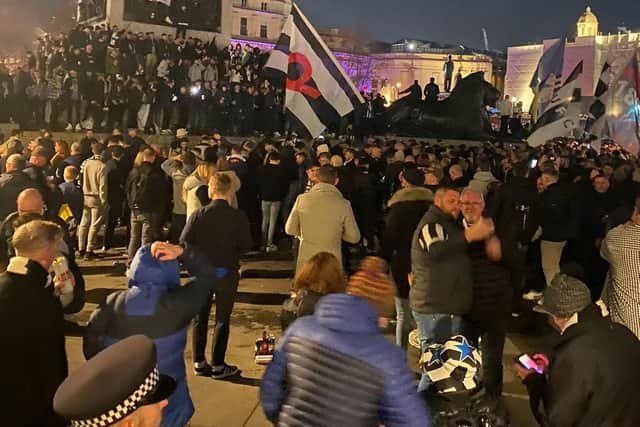 Scenes like this in Trafalgar Square will hopefully become a regular sight in the coming years. Many had waited 24 years for this moment and so the next one, praying it isn't another quarter of a century away, may not be as wild as this - but that hardly matters.
That's simply the evolution of football and this club.
Although it's just a cup final, and Newcastle have been within touching distance of making the final in recent years, Saturday afternoon, into the evening and into the night in Trafalgar Square saw hopes and dreams realised for a whole generation of fans, a generation that may now expect to be making regular visits to the capital.