This is Joelinton's explanation for bizarre Newcastle United miss
Steve Bruce has revealed why Joelinton bizarrely didn't attack a Jaccob Murphy cross which struck the post against Morecambe.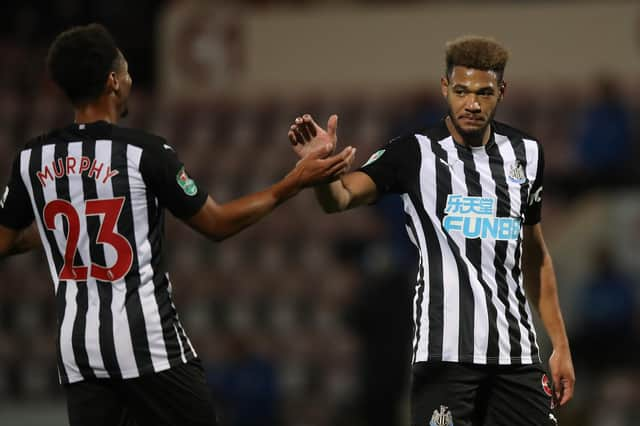 Joelinton found the net twice at the Mazuma Stadium, but should have scored a hat-trick.
The £40million striker was at the far post when a deflected Jacob Murphy cross looped towards him. Joelinton, however, left it alone, and it struck the post and Morecambe cleared the danger.
Bruce spoke to Joelinton about the chance at the break, and the 24-year-old gave United's head coach an explanation.
"I think, after speaking to him at half time, typical Joe, and this is where he might have to be more selfish, he thought it was going in, and he wanted Jacob to have his goal," said Bruce. "He's let it go, and thought it was going in the net. That's his explanation.
Joelinton swept the ball home in the fifth minute to open the scoring, and cut inside from the left later in the first half to lash a shot home from outside the box.
"I was delighted when he put one in the top bin and cut in," said Bruce. "You can see that ability we know he's got, we've just got to bring it out of him.
"But's not forget he's only young. Jacob Murphy's older than him. He's still got a bit to do, but it's not going to do him any harm when he scores a goal like he did today and contributes like we know he can."