'I'm absolutely buzzing with the points' - Sunderland head coach Lee Johnson reacts to Swindon Town win
Lee Johnson hailed his Sunderland players for coming through a challenging night with three points as his injury issues worsen.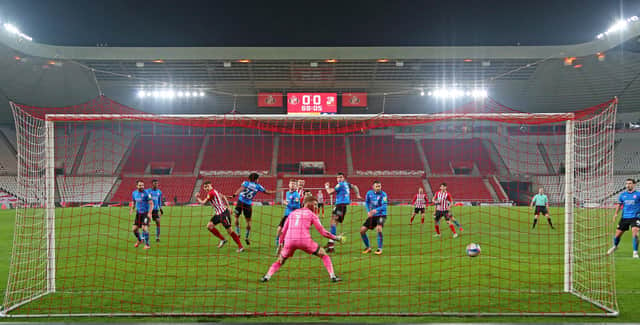 The Black Cats have been forced into fielding a makeshift defence of late and had to do so again against Swindon Town as Conor McLaughlin was sidelined.
Sunderland struggled to carve open a defensive opponent but won thanks to another goal from Charlie Wyke as he stooped to head in a terrific free-kick from substitute Chris Maguire.
Johnson was in no doubt that there is significant room for improvement, particularly in the way they left themselves vulnerable late on.
Scott Twine hit the bar with a late free-kick after the Black Cats had missed a number of chances to score a second on the break.
"First half, in possession, we had a lot of control but didn't work their goalkeeper enough," Johnson said.
"We had a lot of bright play, a lot of switches, centre-halves stepping out, a lot of overloads but it never really resulted in a positive action around the six-yard box.
"We didn't have enough numbers in the box, that's for sure.
"We put Gooch in at 10 and at half-time and just asked the midfielders to get on the angle to be able to play forward more.
"They were having a good game, but it was one of those prozone 95% pass completion, and not enough forward passes.
"Second half we did that much better.
"We scored from the set play, another fantastic delivery and a fantastic header.
"We did all our work up until then and that's when you've got to punish teams. We had three or four really good chances to kill it completely and you're always at the mercy of that free kick, which was an unbelievable hit.
"Burgey has made a magnificent save as well earlier.
"I thought we could improve on our defensive detail after we've had an attack, I didn't think we got compact early enough. That is difficult for us at the moment because we're flogging the boys Saturday-Tuesday."
Johnson nevertheless could not hide his delight at a crucial three points gained.
The Sunderland Head Coach was not aware in the immediate aftermath of the game that both Lincoln City and Portsmouth had been beaten.
The Black Cats are up to fourth as a result.
"It reminded me a bit of the Wimbledon game away," Johnson said.
"We worked hard, hustled, had a good defensive shape and then you earn the right to finish them off.
"It's still a good professional win but you leave yourself at the mercy of a refereeing decision, an individual error or a worldie strike from the opposition.
"But don't get me wrong, I am delighted.
"I'm absolutely buzzing with the points because I knew how difficult a game this was.
"They're in good form, I know the management team well and they're good. They've got some good players and so I was really pleased considering we're down to the bare bones with a makeshift back four.
"The boys are being asked to churn out performances and they've been superb in that."