'It would be massive if some could be there' - Sunderland boss Lee Johnson on hopes of return of fans
Lee Johnson says that positivity and concentration will be key for Sunderland if they are to enjoy a successful play-off campaign.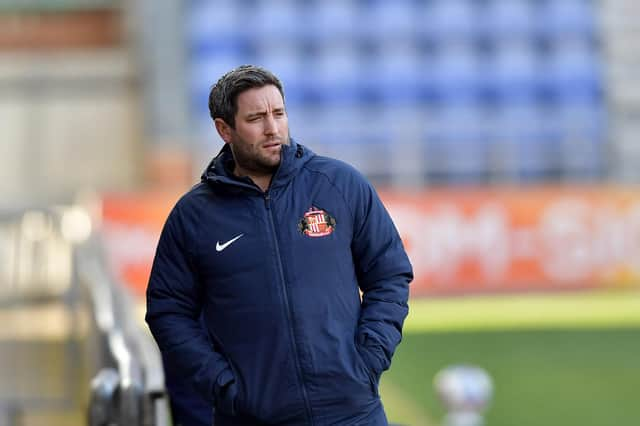 A 3-1 win over Plymouth Argyle on Saturday has lifted the mood on Wearside, securing Sunderland s top-six place with a game to spare.
Johnson will be assessing a number of his players this week ahead of Northampton Town's visit to the Stadium of Light on Sunday lunchtime, in order to ensure he has a squad at peak match fitness by the time the semi final first leg arrives.
"We need positivity, support - the players need support - belief, and concentration," Johnson said.
"You have to concentrate for every second of your performance in the play-offs, because the minute you switch off, it's a goal because people are so highly-tuned to know how important it is.
"You can also play on that of course, because if your opponents switch off and you are highly-tuned, it can be bang bang, and suddenly you are 2-0 up because they are dazed."
Charlie Wyke is his biggest concern; the influential striker missing Saturday's win with a thigh issue that will be assessed this week.
Aiden McGeady was also absent due to a broken nose and swelling on the foot, but did travel to Home Park with the squad.
Sunderland's seven-game winless run had brought their hopes of winning automatic promotion to a bitterly disappointing end but having stopped the rot in the south west, Johnson said he was 'buzzing' at the prospect of trying to succeed at landing promotion at the second time of asking.
Johnson is also hopeful that the play-offs could see fans allowed into grounds for the first time in his tenure.
As it stands, the government are planning to allow capacities of up to 10,000 from May 17th under their roadmap out of lockdown.
The League One semi finals begin on May 18th and Johnson says it will be 'massive' if some Black Cat supporters are able to attend.
"I'm buzzing," Johnson said.
"I'm disappointed that we haven't got automatic promotion, but from where we were, the number of games, and let's say we finish third or fourth, we've now got ourselves a second bite of the cherry in a mini-competition that I believe we will be really well prepared for.
"It can be one of the best things about English football, when the fans are there.
"It would be massive if some could be there - even just a proportion - because I am really looking forward to that."
As it stands, Sunderland could still face one of five potential opponents in the semi final.
The picture could look a little clearer after Lincoln City play Charlton Athletic on Tuesday night, but the final positions will not be settled on Sunday.
Johnson wants three points from his side's game against Northampton to finish the regular campaign strongly, but insists Sunderland are capable of beating anyone.
"I want to finish as high as we can, of course," he said.
"But it doesn't matter who we play. I'm not going to try and be tactical to try and finish in a particular position because I want to play against a particular club.
"I believe that, over two legs, if we are at it, we can be successful against anyone."