Sunderland boss slams poor refereeing and costly fifteen minutes in MK Dons draw
A frustrated Lee Johnson was left to bemoan poor officiating and a poor fifteen-minute spell from his side in the first half as Sunderland dropped more crucial League One points at MK Dons.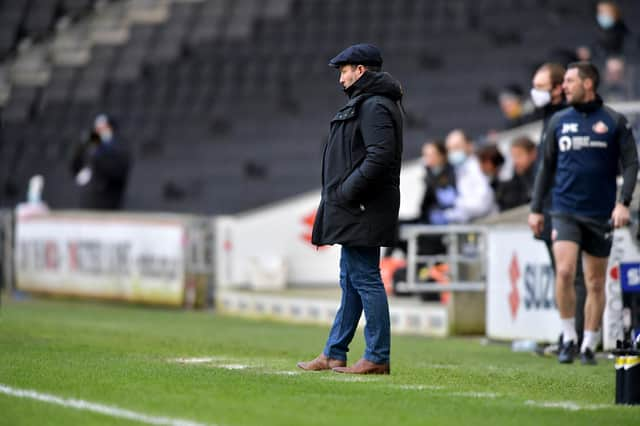 Johnson was adamant that Sunderland should have been awarded a penalty for handball in the second half of this 2-2 draw, while he also said that the home side's second goal should have been ruled out for offside.
The head coach conceded that both sides could criticise the refereeing, however, and could not hide his frustration with the way his side ceded their advantage after Charlie Wyke's early goal.
"I liked a lot of our performance, but I didn't like a fifteen-minute spell in the first half," Johnson said.
"It wasn't just the goals, it's easy to say when you concede two. It was our sloppiness, our lack of urgency, it was like we scored the goal and thought we'd sit it out.
"We didn't squeeze up enough, in or out of possession, we didn't communicate well enough.
"At half time I was pretty aggressive in telling them that because if we play like we did for the rest of the game for 96 minutes, teams will not live with us.
"We've been unfortunate today, a really poor set of officials and some wayward finishing, and good goalkeeping as well.
"Both sides can feel a little aggrieved with the refereeing, if I'm honest," he added.
"Luke O'Nien could have gone for a second yellow, if we're honest, though he would have been unlucky.
"We 100% should have had a penalty in the second half for a handball, the arm was in an unnatural position and the rules clearly say it's a penalty.
"The second goal was 100% offside as well, that's a clear mistake. Some of the officiating beggared belief, to be honest.
"I'm not usually one to talk about officials and I'm certainly not making that as an excuse, because I thought it was for both teams.
"I don't feel like I need to make an excuse really because we played well and created chances.
"It was a tough gig for us, with the pitch and the mileage coming back here it, but it's something we had to deal with. We did that in the second half, and I think we were the better side for 75% of the game."
A second 2-2 draw in two weeks has left Sunderland chasing the promotion pack and while optimistic about his side's improving attacking play, Johnson knows that they cannot afford to keep drawing games.
"This is not an easy place to come, on this pitch, and they've improved themselves in January as we did," he said.
"We're scoring goals, which is good.
"It's a difficult league but it's one where we know we can go on a run, and if we can make the one after a draw a win then it becomes a good one. We haven't done that [today].
"We have drawn too many, both in my tenure and previously, and we know that's something that we've got to snuff out.
"There's still a lot of points to play for."