The 1975 At Their Very Best: Band's tour for new album Being Funny in a Foreign Language arrives at Newcastle's Utilita Arena
Whatever you're looking for from an arena show, trust me when I say The 1975 can deliver what you need.
Want to just be in your feelings and let the music wash around you? There's a song for that. Ready to throw your body around and dance? There's a song for that. Craving the comfort that only a crowd full of people screaming the same lyrics can give you? There's actually a setlist full of songs for that.
The 1975 At Their Very Best tour arrived at Newcastle's Utilita Arena three months after the release of the band's fifth studio album, Being Funny in a Foreign Language – and the sense of excitement in the air before Matty Healy, Adam Hann, Ross MacDonald, George Daniel and their touring band took to the stage was palpable.
Was the tour name intended as a self-deprecating quip at their own success and the space they occupy right now? Or was it a promise to deliver a performance from the top of their game? As someone who's seen The 1975 a few times at different stages of their career, let me tell you; this is the best they've been for me.
Being Funny in a Foreign Language
A performance of two halves begins; the first part very much the 'show' and the second part, the concert. Most bands of The 1975's level can fill an arena and curate a fan-pleasing setlist, sure. But what other artists lack is the ability to create a genuinely captivating production.
There is so much I could say about the drama, spectacle and staging of the night, but I'll keep some secrets for those yet to see them on tour. There were cigarettes, press-ups, TV screens showing the news cycle and a slab of raw meat washed down with a bottle of Newcy Brown. And, a very special cameo.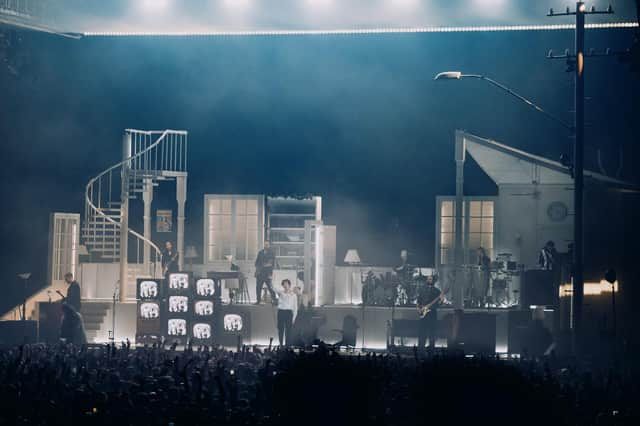 The lights dimmed and the spotlight's focus was on another Healy – actor, undisputed national treasure and frontman Matty's dad, Tim. The 1975 is a band with deep roots in the North East, and the reception to Tim's rendition of All I Need To Hear was deafening.
At Their Very Best
Phoebe Bridgers, Taylor Swift and Charli XCX have all made appearances during this The 1975 tour. In Newcastle, it was Lewis Capaldi. After a two-song interlude from the Scotsman, it was time for The 1975's very best.
Chocolate, I Always Wanna Die (Sometimes), Love It If We Made It, Menswear, The Sound … the concert portion of the evening was charged, loud and oddly worshipful.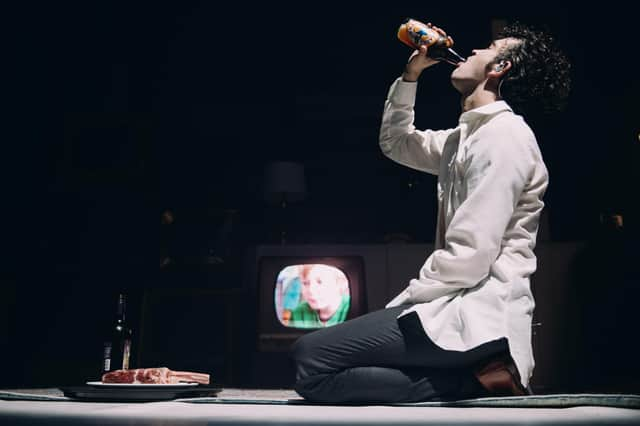 As the set closed off with Give Yourself a Try, there was an overwhelming sense that we had all been part of something special. Matty Healy was the evening's conductor and ringmaster, and the thousands of us gathered under his authority all had a part to play in the orchestra of a 1975 show.
Certain albums and tours go on to define a generation. And everyone will be talking about The 1975 At Their Very Best for years to come yet.