South Shields artist Bob Olley donates paintings to museum
South Shields Museum and Art Gallery hold an extensive collection of art by local artists.
Published 15th Feb 2023, 14:00 BST

- 2 min read
Updated 15th Feb 2023, 14:00 BST
South Shields artist Bob Olley has donated a collection of his paintings to South Shields Museum and Art Gallery.
83-year-old Olley, is known for painting historical scenes, paying homage to the mining heritage of South Shields.
One of his most famous paintings is named Westoe Netty, which was painted in 1972. The painting has become a symbol of the North East's working class history, and was inspired by an actual public toilet that was situated in the Westoe Area of South Shields.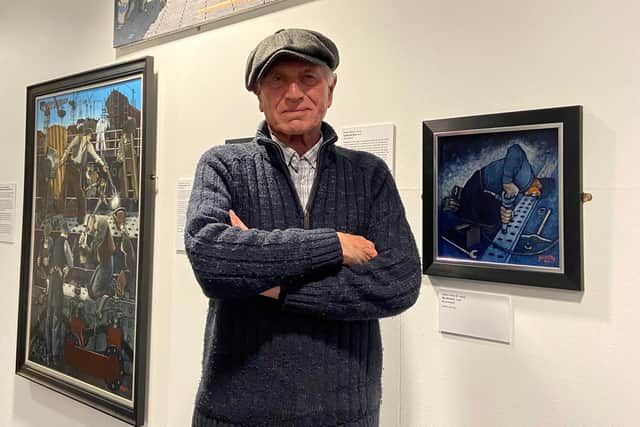 Before becoming a well-known artist, Olley worked as a miner in South Shields for over 10 years. Olley is known for his pride towards South Tyneside and continuously supports the town.
Olley has generously donated a new series of paintings to South Shields Museum and Art Gallery. The collection was originally commissioned by the museum for their 2022 exhibition Pushing The Boat Out which celebrated the history and importance of ship building and ship repair to the riverside communities of South Shields, Jarrow and Hebburn.
Olley's artwork focusses on various shipyard trades, activities and events with his usual style, humour and attention to the North East history prominent in the collection.
Olley said of his work: "Moving from my interpretation of the once mighty coal industry and the men who worked in it, to the subject of shipbuilding and ship repair in South Tyneside, presented me with quite a challenge.
"A coal mine, unlike a shipyard, has no natural light, and no horizon or very great distance to depict. From the mainly black or poorly lit backdrop of a mine, to the bright vista of a sky silhouetting the many cranes and other impedimenta of shipbuilding, proved to be quite a leap, but fortunately not completely in the dark!"
The full series donated to the museum by Olley are named: The Riveter, The Welder, The Rivet Cooker, Laying The Deck, Joe the Girder, The Shaft, The Long Wall Fillers II, Bait Time and Launch Day.
Museum manager, Geoff Woodward said: "We are delighted that Bob has gifted these fabulous paintings to the museum collection. Not only are they very engaging artworks, but they also present an important social record of a significant part of local heritage."