What's on at Sunderland Empire: Review of musical My Fair Lady as classic show starring Eastenders actor Adam Woodyatt comes to Wearside stage
My Fair Lady is a theatre classic, and there are many reasons why it has stood the test of time.
Based on the play Pygmalion, it first debuted as a stage musical in the 1950s, before becoming a beloved story worldwide with the release of the 1964 film starring Audrey Hepburn. And for those who feel like they haven't seen it, rest assured you will know the tunes.
If it's your first time, you can't fail to be swept up in the magic.
I'm a great believer in a theatre trip all year round – come rain or shine, there's nothing better than losing yourself in the drama and excitement of a good old story. But a cold, grey and windy February evening was the perfect time for a visit to Edwardian London an an education of sorts, alongside our leading lady Eliza Doolittle (Charlotte Kennedy) and Professor Henry Higgins (Michael D. Xavier).
Directed by Bartlett Sher, this award-winning revival of My Fair Lady premiered on Broadway in 2018, before enjoying a critically-acclaimed run in London's West End. The production toured Cardiff, Edinburgh and Southampton before reaching Sunderland, and will go on to Bristol, Birmingham and Manchester into the spring.
And audiences in every city can expect to enjoy a 'loverly' night out as we follow Miss Doolittle's journey from cockney flower girl on Tottenham Court Road to genteel London lady; but at what cost?
Before I wax lyrical about the iconic musical numbers, let me take a moment to bask in the glory and opulence of the costumes and set. My Fair Lady is an absolutely beautiful production to look at; from Higgins' House to the oft-visited hostelry of Alfred P. Doolittle (Adam Woodyatt, best known as Eastenders' Ian Beale).
And the frocks. Oh, the frocks. One look at the ladies' Ascot outfits and Eliza's evening gown for the Embassy ball and I was a child again. You know that feeling – you're shopping with mam, see a grown-up girl dress with all of the sparkle and yearn for the day you can wear something like it.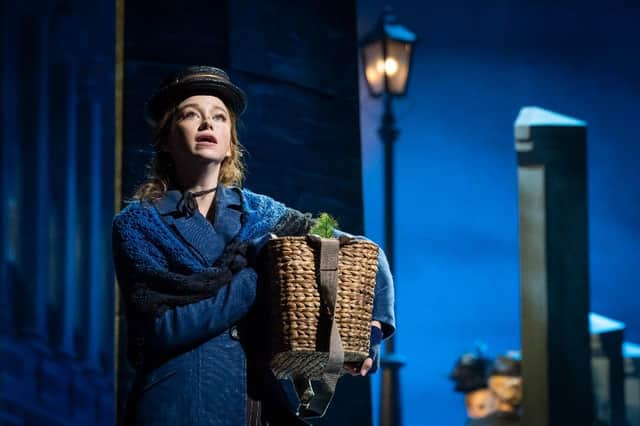 But enough of the stunning outfits and onto the breathtaking vocals. Eliza Doolittle's songbook is not for the faint-hearted, but the ease with which Kennedy carries off some of musical theatre's most celebrated songs – Just You Wait, The Rain in Spain, I Could Have Danced All Night – has to be heard and seen to be believed.
Professor Higgins is a funny old character in that you sort-of want to hate him for his ill manners and petulant treatment of Eliza during her speech training. But in spite of this, audiences chuckle and clap along with an air of "men, eh?" in their applause.
Xavier's portrayal of the paradoxical professor is authentic, frantic and genius. The chemistry he has with Kennedy's Eliza is tangible, making the audience feel privy to a couple's most intimate and private moments.
Quick-fire highlights; the always-exasperated air of Lesley Garrett's Mrs Pearce, the ensemble watching the horses at Ascot and – how could it not be? – trying to get Alfred Doolittle to the church on time. Adam Woodyatt, you're welcome back to Sunderland any time.