Business is booming with communication firm's new offer
Business is booming at a South Tyneside-based communications firm thanks to an expansion of its services and link up with an investments specialist.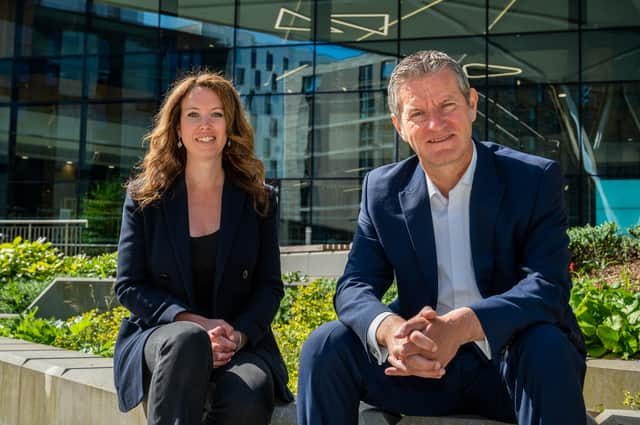 Bradley O'Mahoney has seen a surge in new business from growing tech firms after collaborating with South Shields-based business investment specialist, Stephenson Ventures, and introducing an in-house video filming and editing service for clients.
The firm, which is based at Bodon Business Park, is specifically aiming at small to medium sized companies in the region who are looking to scale up quickly.
Director, Sarah O'Mahoney, said: "We are placing an emphasis on the growing number of companies in the region looking to scale quickly and with the ultimate goal being the sale of the business or further acquisitions.
"Our message is that building their profile is a vitally important ingredient, something they really should work at when looking to build the confidence of a
Bradley O'Mahoney is collaborating with Stephenson Ventures, which is owned by Neil Stephenson – the former CEO of Onyx Group – and based in Fowler Street, South Shields.
Sarah said: "Our collaboration with Stephenson Ventures has enabled us to convert clients from the tech sector, in particular, where Neil is a highly respected mentor, coach NED and investor.
"Meanwhile, we have seen very fast uptake for our video offer and this is without actively marketing it."
Bradley O'Mahoney was established in 1991 and works with a wide range of clients in areas such as brand positioning and reputation management.
It's clients include Hodgson Sayers, Carney Consultancy, Castle Building Services, Silverstone Building Consultancy, Elanders UK, JK Property
Services, Torgersens, Northern Counties Builders Federation, New Energy and Building Services Solutions, Peacocks Medical Group, HLA Building Services and the North East Automotive Alliance.
All have utilised the firm's new video service to highlight business success, case studies, award wins and to engage with employees, stakeholders and investors.
Sarah added: "To meet increased client demand we have also strengthened our PR resource at director level, media training and crisis management.
"We are a very agile and focussed firm that has developed a sustainable business model that is attractive to clients and which, we believe, will help us continue to grow."