Plans submitted by holiday park operator Haven for Covid-safe drive-thru check-ins at Haggerston Castle
A holiday park operator is putting plans in place to provide a Covid-safe environment for guests arriving at its Northumberland sites.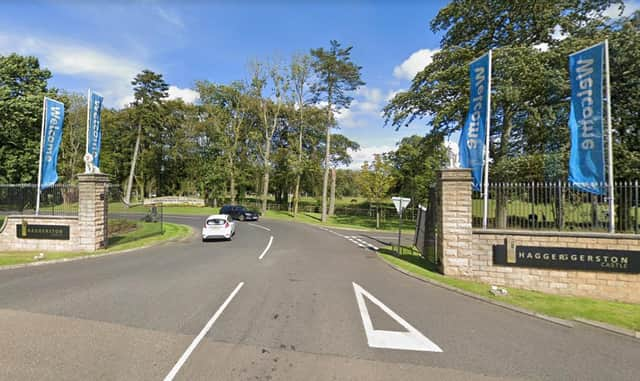 Haven Leisure has submitted plans to build drive-by arrivals lodges for check-in at its Haggerston Castle and Berwick holiday parks.
It has asked Northumberland County Council to determine the proposals as soon as possible so plans can be made for the coming visitor season.
A consultants' report on behalf of Haven explains: 'Haven Holidays has, like many businesses, had to rapidly adapt its operation to cope with the risk of Covid-19 to guests and team alike.
'A wide range of measures have been introduced at the Haven holiday parks and the measures were instrumental in enabling a significant number of people to enjoy a holiday during the main summer season.
'One measure that Haven introduced to ensure a safe operation involved a radical new approach to guest arrival and check in.
'The long established practice has been for guests to arrive at a holiday site, park in a car park and then queue in a reception building, often with many other people.
'The new approach taken in 2020 was to specify an arrival time and for a team member to meet the guests at an outdoor 'arrival' point on the park.
'The intention is to establish this new approach as the standard operation in the future, starting in 2021.
'It is also anticipated that Covid-19 will impact guests' behaviour and expectations for some time and Haven needs to ensure each park is able to operate successfully and safely from the start of the season.'
Temporary structures were erected to provide shelter last year but a decision has now been taken to provide each park with a new arrivals lodge.
At Haggerson Castle and Berwick it is proposed to site them by the main entrance road into the parks.
'The proposed lodge will make an invaluable contribution to the future operation of the holiday park,' adds the report.
'Covid-19 has had a significant impact on the leisure and tourism industry and on the way Haven has needed to operate its parks to ensure compliance with social distancing measures and the safety of guests and staff. These measures will need to be in place for the foreseeable future.'
The dramatic events of 2020 are having a major impact on many of our local valued advertisers and consequently the advertising that we receive. We are now more reliant than ever on you helping us to provide you with news by buying a copy of our newspaper. If you can, please do pick up a copy when you are at the shops. Thank you for your support.