'Old man's pub' The Albion in Jarrow asks under-25s to stay outside for the sake of older regulars after rise in young drinkers
A self-confessed 'old man's pub' has asked under-25s to stay outside for the sake of its older regulars after seeing a significant increase in younger visitors since reopening.
18th May 2021, 4:55am
- 3 min read
Updated
18th May 2021, 5:24pm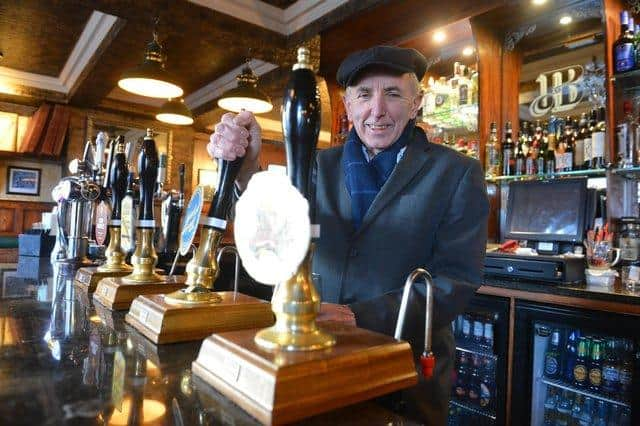 Now, after opening indoors, the pub has asked under-25s to stay outdoors until June 21 in order to accommodate the pub's regulars as the pub has limited seating.
The pub will still offer its outdoor seating to younger customers and allow indoor seating on quieter nights, but wants to prioritise the venue's regular visitors who are, ore the most part, older.
And customers whose behaviour is found wanting, including those not sticking to covid-secure measures, will find themselves 'excluded' altogether.
Landlord Jess McConnell said: "We've always been an older person's pub, but over the last five weeks we've had a lot of young people in, 18 and 19 having their first drink in a pub.
"Most of them have been good as gold but now we've opened indoors we're limited for seating which means we're not going to be able to accommodate the number of young people we've been getting.
"It may naturally sort itself out as other venues reopen, but this is a temporary solution for now until June 21."
Writing in a post on the pub's Facebook page, The Albion said: "Over the last five weeks, having a younger crowd has came as a bit of a shock to our regulars.
"Most of these customers are well behaved, observe covid rules and are literally having the time of their lives. You are extremely welcome and are hopefully the future of this great pub.
"Other younger customers being unruly and not observing covid rules are gradually being excluded from service at the Albion."
The post said restrictions easing on May 17 created "a major problem for the management" with limited seating indoors.
"Some regular evenings are already well attended to maximum capacity, so how on earth do we integrate our new customers," it read.
"The younger crowd generally gather in larger numbers and we simply cannot accommodate for all inside the bar during this next four weeks of covid restrictions."
The post said inside drinking would now "only be for customers 25 and over as we gradually integrate all" though on quieter nights there may be some room indoors.
A subsequent post clarified: "We can confirm that pre-covid under-25 regulars, of which there were very few, will be allowed in the public bar during the remaining restrictions, and if it is a quieter night under-25s will be offered inside seating if available."
The Albion Gin & Ale House is the only pub in Jarrow to be included in CAMRA's good beer guide 2021.
Support your Gazette and become a subscriber today. Enjoy unlimited access to local news, the latest football stories and new puzzles every day. With a digital subscription, you can see fewer ads, enjoy faster load times, and get access to exclusive newsletters and content. Click here to subscribe.