Romanian native firefighter proud to protect Sunderland in new role
Mihai Catea comes from a firefighting family, however originally moved to England to study business and marketing.
Published 3rd Mar 2023, 10:33 BST

- 2 min read
Updated 3rd Mar 2023, 10:33 BST
A Romanian native who moved to England to study for a Business and Marketing Management degree has now begun a brand-new career, which will see him protect the community and save lives.
When first moving to England in 2014, Catea's original career plan was to work within the business and marketing sector. After he graduated from university, Catea worked in recruitment and market research.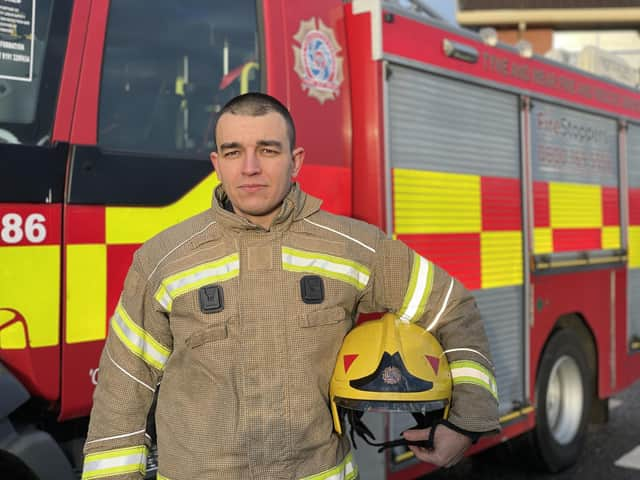 However, in March 2022, the 30-year-old decided for a change in career after seeing a firefighter recruitment advert featuring one of his neighbours.
Catea actually comes from a firefighting family back in Romania, but growing up he was unsure that it was the right job for him. However, since applying for the role and beginning his new career - he has never looked back.
Speaking of his new role, Catea said: "I had lots of jobs, lots of hobbies that I tried to make into jobs, but when I read through the job description to be a firefighter everything just sounded like what I wanted to be doing with my life.
"I was always fit but I hated running – I knew the application process was going to be challenging so when I decided to apply, I changed my training to make sure it covered the requirements of the role.
"I've always been good at the social and communication sides of the roles I've found myself in and those jobs are the ones that I've thrived in.
"The course is challenging but being on station is a completely different learning cycle. I love my watch and I love being on station, everyday I'm shown something new and it's such a supportive environment."
Catea has said he is proud to call England home, and is working hard to keep communities in Sunderland safe.
Assistant Chief Fire Officer Lynsey McVay is now encouraging those from different backgrounds to consider a career with the North East fire service.
She said: "Mihai comes from a firefighting family but wasn't sure it was for him so he went out and got experience then realised being a firefighter was his calling.
"It's nice to see that he has found his home with us and he is enjoying his time on station.
"We want people to bring all their experience from previous jobs to look at situations and incidents differently.
"Different perspectives on how to approach a problem really makes our fire service better at responding because our firefighters are often required to think on their feet and problem solve a bit differently."
Tyne and Wear Fire Service recently had a recruitment campaign which saw over 1,000 people apply for a full-time firefighter position. The recruitment campaign is now closed, but if you are interested in a role within TWFRS, please visit the Work For Us section of their website.