Specialist firm aims to improve people's life chances
A Hebburn-based company which specialises in providing opportunities for disabled and autistic people is creating 20 new jobs with a major expansion plan.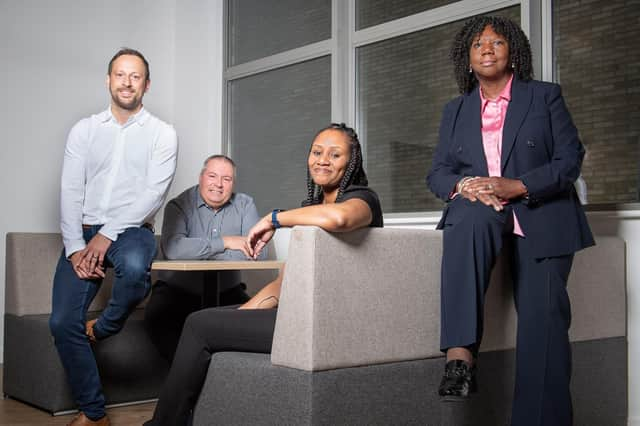 eQuality Solutions Group (eQS) provides diversity, equity and inclusion services – including consultancy, training, e-learning, mentoring, learning support and assessment of disabilities – to businesses and colleges all over the country.
The firm, which has doubled turnover and increased its headcount from 40 to 100 in the last two years – has unveiled a new senior leadership team to spearhead a major investment programme and target further acquisitions.
Chief executive, Michael Hall; managing director, Andy Gough; head of people and culture, Camila Williams-Johnson and founder, Femi Otitoju, are leading the rapidly-growing business that has acquired four niche companies in the last three years.
The firm aims to expand into higher education, finance and 'creative and culture' sectors and the strategy also includes the launch of a new recruitment service, which aims to match neurodiverse talent with higher education opportunities and job vacancies.
Mr Hall, the firm's former chief finance officer, said: "When we embarked upon our acquisition strategy in 2020, we knew we had a good
business that did good things, but we operated in a niche market that limited our growth potential.
"Our aim was to build a business at scale that made a positive difference to society and we wanted to acquire businesses with strong track records of doing that, which shared our ethos and complemented our specialism in disability, neurodiversity and technology."
He added: "We've now successfully integrated four businesses, with each one adding to our offering and are now one of the largest independent businesses in our sector in the UK.
"I'm extremely proud to have built that from our North East base, with four offices across the country, including London.
"We've more than doubled the team and boosted our revenues by 50% to £15m but more importantly, we make a positive difference to the lives of 47,500 people on an annual basis.
"Over the next five years we want to scale the impact of our work and support 200,000 people a year.
"We aim to achieve that by scaling up our current revenue streams and develop new ones through further acquisitions that will develop our offering and