Boldon nursery where children are 'eager to learn' gets good Ofsted inspection, leaving staff staff 'over the moon'
Nursery staff are "over the moon" after being judged as good by Ofsted following their latest inspection.
Published 20th Feb 2023, 15:55 GMT

- 2 min read
Updated 20th Feb 2023, 15:55 GMT
Boldon Community Centre Sunshine Playgroup was described by inspectors as a place where "children want to laugh, learn and make friends" and in which staff have "high expectations for all children".
Inspectors highlighted the nursery's positive environment in which children "bound along the corridor on arrival" and "quickly settle at activities".
The inspection took place just four days after manager Lisa Leyden had been appointed.
She said: "The previous manager left before Christmas and we had just implemented a number of changes to provide what we felt was more routine for the children. We are all over the moon with the judgement and there were lots of excited cheers when I told the staff."
Lisa was "most pleased" the report highlighted the nursery's provision for children with special educational needs and disabilities(SEND) and strong relationships with parents.
Lead inspector Clare Wilkins said: "Support for children with SEND, in partnership with other professionals and parents, is highly effective. Children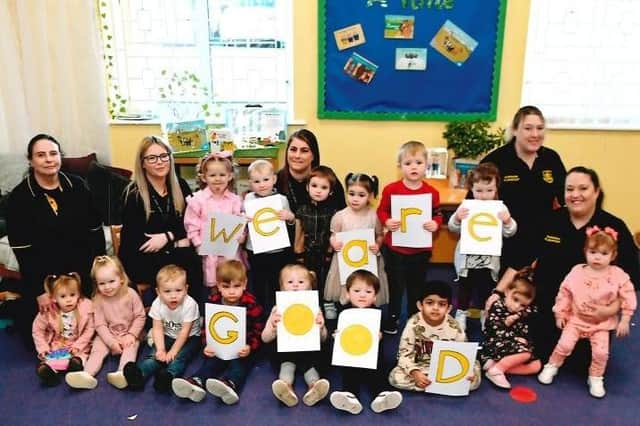 with SEND make remarkable progress and achieve well.
"Parents speak very highly of the playgroup and its staff. They particularly appreciate how quickly staff respond to information they share about their
"For example, children who have new siblings are encouraged to feed and dress dolls during imaginative play. This helps children to cope with changes
and new experiences at home."
Lisa added: "I'm really proud of all the staff and pleased with the positive feedback from parents who have been so supportive."
The report described how children are "eager to learn" and how staff prepare children for moving to school.
Ms Wilkins said: "Staff give careful thought to preparing children for their move on to school. Older children are encouraged to become increasingly independent. For example, staff help them to learn how to manage their own clothing and take responsibility for their belongings."
Despite only being in charge for four days, Ms Wilkins also commended Lisa for her impact in her new role.
She added: "The new manager has ambitious plans for the playgroup. She has managed recent changes in staff well, ensuring continuity for children and reassurance for parents.
"Her clear vision contributes to the strong capacity for continuous development and ongoing improvements to children's already good outcomes."