Kids feel 'part of the family' at "Good" nursery
Everything is looking 'good' at a nursery in South Tyneside after an inspection by education watchdogs.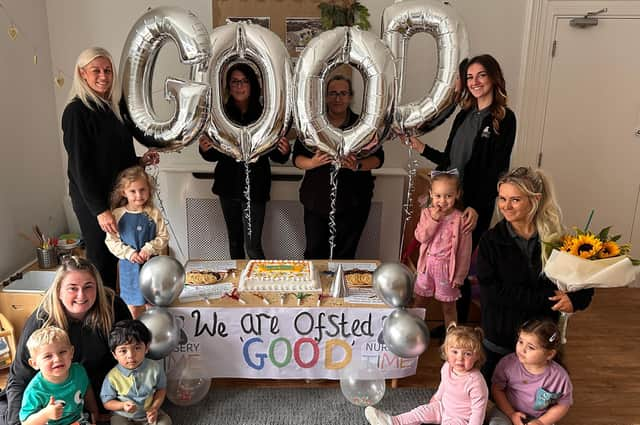 Nurserytime, in Beach Road, South Shields, was rated as "Good" in all categories - effectiveness, quality of education, behaviour, personal development and leadership and management – after Ofsted inspectors visited in June.
Nursery manager Helen Coulson says she is delighted with the inspector's findings and congratulated the staff, children and parents.
Inspector Cathryn Clarricoates' report says children at the nursery feel "secure, happy, confident and "part of the family" and that staff and parents communicate with each other "very well".
She noted that children are eager to take part in a wide range of activities, staff have high expectations for them, provide a wealth of praise, and support the youngsters to make friends and develop their social skills.
She added: "Staff model polite manners, saying 'please' and 'thank you' and the children say 'excuse me' when they want to get by and also help with tidying away resources.
"The Children behave very well and this helps prepare them well for the next stage of their learning."
Staff at the nursery were singled out for particular praise.
Ms Clarricoates said: "Strong, passionate and committed leaders share their vision and high ambitions for the nursery with their dedicated team.
"They decide together how to continuously make improvements, taking account of the views of children and parents, and develop resources to support children when moving to school, in response to parent feedback.
"Partnership working with parents is very strong and key workers keep parents updated about children's experiences, routines and development and support for families is extensive and tailored to meet their needs."
She added: "Parents say that the nursery is a 'caring and fun environment' and all children make good progress, including those with special educational needs.
"Children also find out about the community around them when they go to places of local interest, including beaches, shops and a community garden."
Ms Coulson said: "I would like to say a huge congratulations to our hard-working, dedicated team and a special thank you to all of our children and families for their continued kindness and support."