Lego kids aiming to build a 'greener future'
Youngsters at a South Tyneside primary school are working on building a greener future.
Published 15th Feb 2023, 11:57 BST

- 2 min read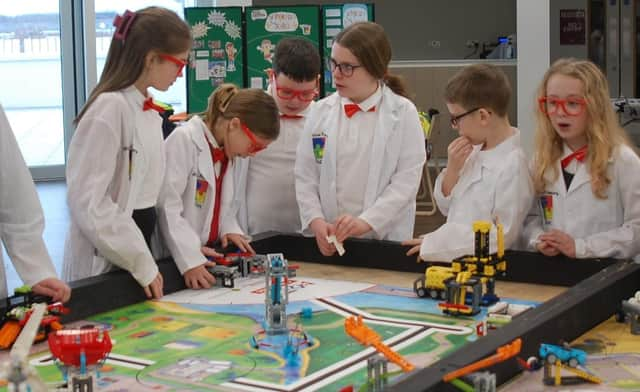 The Harton Primary School Puzzlers Pupils wowed judges at the regional Lego League competition with their innovative project – based on generating green energy and will now represent the North East in the national final.
The youngsters were tasked with exploring ways to improve the generation, storage or transportation of energy and the team came up with the idea of a skipping rope which uses the kinetic energy of the children on a school yard to charge a device – take pressure off the National Grid.
They devised and developed this product with the help of recycling firm Suez TeesValley; petroleum firm Equinor; fitness firm Skipping School and marine engineering firm SeaJacks.
With the help of an engineer from SeaJacks, the children were able to demonstrate their idea with a functional, working prototype.
They also designed and built a robot, using Lego Spike technology which has to perform a series of tasks to earn the team points.
Their project was praised by the judges – who suggest little to no improvements.
Danny Arthur, first engineer of SeaJacks Hydra worked with the team to develop and build the prototype.
He said: "The level of enthusiasm and commitment these young engineers brought to the table made this project an absolute pleasure to be a part of.
The outcome of the competition is not surprising given how much time the team put in and I'm looking forward to working with the them on their upcoming projects."
Amanda Hayward, E learning advisor for ICT in South Tyneside schools, said: "Harton Puzzlers really embodied what First Lego League is all
"The team demonstrated excellent coding skills under pressure in the robot game and their team presentation was the best our judges had seen at our
tournament and at others around the country.
"They also have a great sense of team camaraderie and their enthusiasm was contagious.
"I'm sure they are going to do really well in the national finals."
The team will now compete in the national final at Harrogate Convention Centre in April.