Top marks for Hebburn nursery after watchdog inspection
A nursery in South Tyneside is looking 'good' after an inspection by education watchdogs.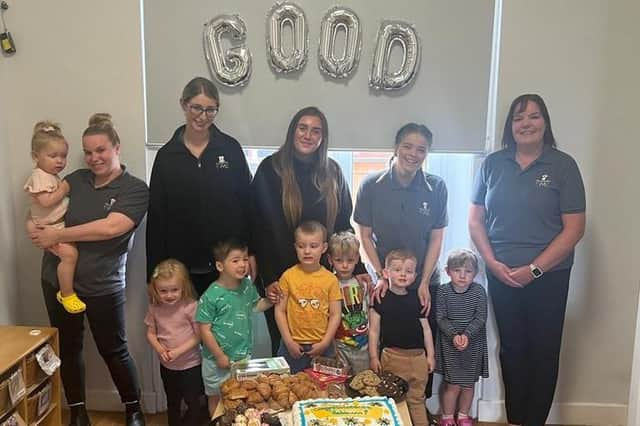 Nurserytime, in Victoria Road West, Hebburn. was rated as "Good" in all categories - effectiveness, quality of education, behaviour, personal development and leadership and management – after Ofsted inspectors visited in July.
Inspector, Julie Foers said the nursery was "very inclusive and friendly" and that the children who attend it were "very settled, happy and secure" and the envirpnment created by staff made them "enthusiastic, curious and eager to learn."
Nurserytime regional manager, Catherine Barrow, said she was delighted with the results of the inspection and added: "I would like to say a special thank you to our lovely children and their families for their endless support and kindness.
"Huge congratulations should also go to the highly professional staff at the nursery. This report recognises the high quality of care and education they provide."
The report says children form close bonds with staff at the "very inclusive and friendly" and the nursery provides a wide range of experiences which both "interest and challenges" them.
Ms Foers added: "The children are enthusiastic, curious and eager to learn. The staff support them to grow their independence keep calm and manage their feelings and behaviour and they benefit from good opportunities to learn about nature and the natural world.
"Staff plan secure daily routines, with children benefiting from daily fresh air and exercise, learning about healthy eating and there is a strong plan for them to learn about life outside the nursery through visits and trips."
She added: "They visit the library, football ground and local care home, where they enjoy meeting the residents, and also take part in litter picking and flower planting at a local community space.
"Partnerships with parents are strong, staff plan events and resources to help involve parents in their children's learning and the manager provides strong support to her staff – who work very well together and reflect regularly on experiences for children.
"The nursery's arrangements for safeguarding are effective and staff show a good awareness of how to teach children about safety."